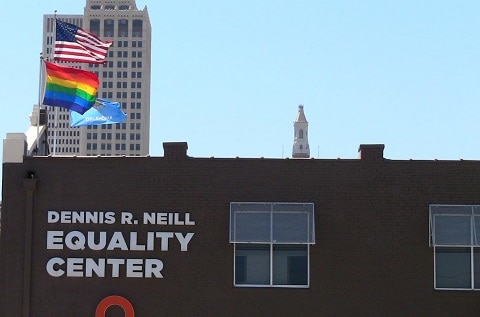 Oklahoma police are investigating after several shots from a pellet gun were fired at the Dennis R. Neill Equality Center in Tulsa on Monday.
A surveillance video shows several shots were fired from a white four-door truck at around 12:20 a.m.
According to Tulsa World, later that day, a man walked into the center yelling profanities at the staff.
U.S. News reports:
Tulsa police said 13 pellets were found around the front door and windows of the center. The pellets did not penetrate the reinforced window but marked the first serious vandalism since Oklahomans for Equality opened the facility, according to Toby Jenkins, the center's executive director.
"I am sickened, yet not surprised, by the bullet holes that now riddle the front of the Dennis R. Neill Equality Center," Geoffrey Brewster, Oklahomans for Equality board president, said in a statement. "They are the latest reminder of the deep-seated hatred some individuals have towards the LGBTQ community."
The center's staff was harassed later the same day by a man who walked into the facility using abusive language. The man described himself as a veteran and yelled, "I wish you would all die," according to Jenkins. Jenkins said the man quickly left as he approached him.
"It was so brazen, I thought it was a joke," Jenkins said. "I didn't know him, but then I realized he was serious."
Jenkins added that although the center has been harassed before, the Monday incident was especially bad because the staff was "already super tense and nervous" after finding the pellet-gun damage to the front windows.
In a statement, Oklahoma Democratic Party Executive Director, Sarah Baker said:
"This attack comes at a time where our own LGBTQ community is experiencing some of the most vitriolic and systemic hatred in decades. The recent actions of individuals and groups from the extremist far-right is not just a violation of one community; it is a violation of all communities in our state and across our country. This behavior goes against the very fabric of the principles of freedom which we claim to stand for as a nation.
"Now is not the time for silence. Now is the time to stand up and speak out against intolerance. Now is the time to stand up for our friends and neighbors. We must not let actions like this go unnoticed or ignored. We must be vigilant in our efforts to protect those in our community."
Watch the video surveillance footage below.
(Image via Facebook)
A report from KJRH: