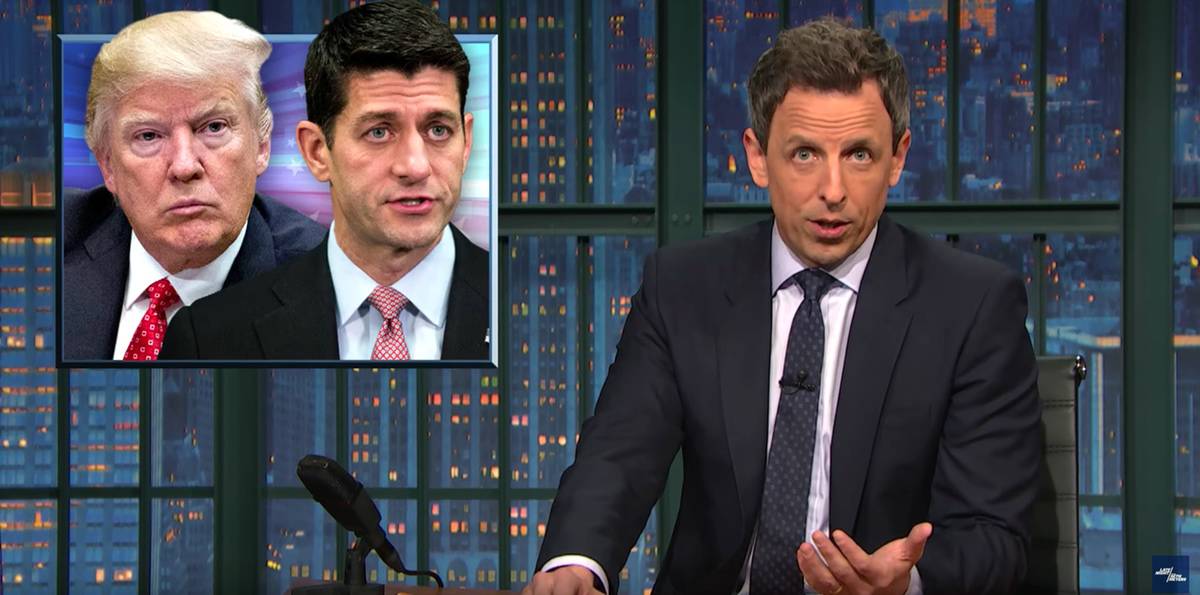 "The last 24 hours in politics have been truly mind-boggling," said Seth Meyers in last night's A Closer Look. "You've got the president doubling down on his false wiretapping claim, Republicans scrambling to cobble together a health-care [bill] before anyone even knows what's in it, and new reports that Trump associates may have coordinated with Russia."
Meyers then pointed out the revelation that Paul Manafort had been paid $10 million to push Putin influence in the U.S.
Said Meyers: "So Trump campaign chairman's previous job was working to advance Vladimir Putin's agenda. That's like finding out your babysitter's previous job was baking children into pies."
And as far as the health care bill went, Donald Trump was supposed to be negotiating his health care bill yesterday but instead he was in the cab of a semi after meeting with truckers at the White House.
He even honked the horn of the truck.
"In fairness, he had just seen this bumper sticker," said Meyers. "Honk If You're Tragically Unqualified."
Check out the rest of Meyers's latest assessment:
https://www.youtube.com/watch?v=0uPItQT9m9g