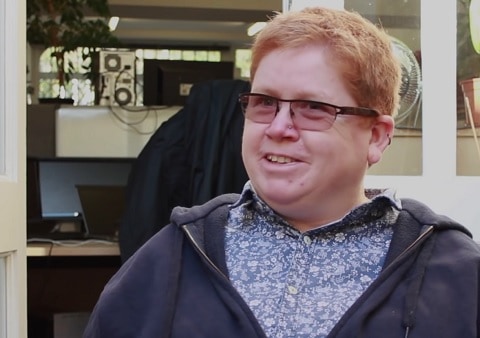 A UK LGBT charity that received up to £120,000 ($155,000) in government funding per year between 2008 and 2016 has collapsed because of "chaotic" management.
Founded in 2004, Broken Rainbow aimed to highlight and combat domestic violence in the LGBT community.

According to the BBC, the charity received an annual grant of at least £120,000, with the exception of 2007/08, when it received £30,000 ($39,000).
Broken Rainbows' chief executive, Jo Harvey Barringer (above) was paid a salary of £57,500 ($74,000) with a potential bonus of up to 15 percent.
After its collapse, MP Bernard Jenkin, asked the National Audit Office (NAO) to investigate.
– The charity's management had been "chaotic"

– Its few organizational policies had not been followed

– The Home Office had not met its own requirements for monitoring its grant

– The charity owes more than £34,000 in unpaid tax
Between April 2015 and July 2016, the charity paid Harvey Barringer £114,397 ($147,000) who told the NAO the money had covered her salary, expenses, and wages for other staff members, including her wife.
Although she claimed that the charity's treasurer had approved the expenses, the NAO report noted: "None of the trustees we have spoken to recall authorizing expense payments to the CEO's account."
Additionally, the report found that from November 2015 onwards there was no second signatory on Broken Rainbow's accounts. Rules require that charities must have two signatures before authorizing payments.
Harvey Barringer said the high turnover of trustees, and bank delays meant she could not wait for a second signatory.
She has also refuted allegations of excessive spending on gifts and first-class travel.
In its conclusion, the NAO said:
"There are rules about how to run small company charities, but in the case of Broken Rainbow they were not enforced…
"Light-touch regulation reduces the administrative burden on charities, but increases the risk that public money may be misspent."
The Charity Commission is also investigating the closure of Broken Rainbow while the Home Office said it would carefully consider the NAO's report.
The government has updated its grant monitoring guidance since the collapse of Broken Rainbow.
In January 2015, Harvey Barringer launched a GoFundMe campaign citing an end to Home Office funding. On the campaign page she refers to herself as a volunteer.
Watch a 2015 interview with Harvey Barringer below.
(Image via YouTube)