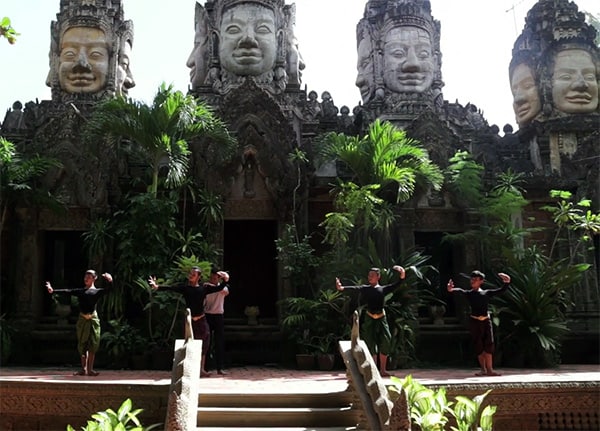 A Phnom Penh resident with a California upbringing formed Cambodia's first all-male, all-gay dance company two years ago, the self-titled Prumsodun Ok & Natyarasa.
The son of Cambodian refugees who came to the United States in 1979, where he was born, Ok, now 29, recalled how their community in Long Beach would have dancers at their local temple perform Khmer classical dance routines in makeshift traditional costumes as a link back to their homeland. He became enthralled with this form of cultural expression and later trained with one of its top choreographers
Khmer dance is a hallmark of national identity in Cambodia, in roles predominantly filled by women. Ok has sought to add a new twist to the tradition, and in June 2015 started his company, NBC News reports:
The dance company draws heavily from the art of Khmer classical dance, but also creates new works that take on a very diverse approach to what the art can be and do. Notably, all the roles in the company's performances are performed by gay men, even roles traditionally performed by women.
By restaging traditional works of Khmer classical dance with gay male dancers, Ok is hoping to both preserve and give a freshness to a revered national art form, and in the process help challenge the notion that being gay means going against tradition.
"All over the world there's this idea that being LGBTQ is contrary to tradition," Ok said. "Our dance company is very different in the sense that we are taking an art form that is seen as a national art form, and carving a clear space within the tradition [for LGBTQ people]."
Ok believes offering audiences new possibilities for a well known tradition can help dispel the notion that being gay is something unnatural. "Being gay is not contrary to tradition. In fact, look at these young gay men who are taking care of this tradition," Ok said.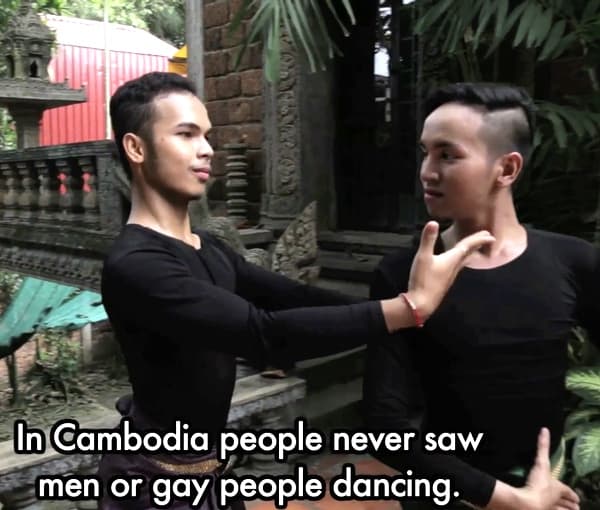 Ok explicitly draws a line to the persecution of LGBTQ individuals around the world to why he felt it was important to include them in this visible sphere:
Ok cites incidents of violence against the LGBTQ community globally as something he often thinks about, and calls the dances his dance company performs as "something like a sweet medicine."
"Maybe it's the fact that I understand I am a gay man, and in some parts of the world [gay men] are being thrown off buildings," Ok said. "To go on stage and show people as a gay man I know what love is, it's a gesture of protest in a world of violence — but also it's a gesture of celebration and resilience."
Simply proclaiming gay identity in this context is an important step to resilience and solidarity, he explains:
Ok is hoping to nurture a strength and bravery in his dancers, which he says they will need in order to be successful in their performances. "When I was first auditioning, I said, 'We need brave people. We're going to go on stage and say this is Cambodia's first gay dance company. I can't have people who are not honest with themselves,'" Ok said.
Luckily, he said the response by audiences to his all-gay male dance company has been for the most part positive. "We performed at the U.S. embassy, and that video has gotten 160,000 views," Ok said. "You can really see the company is starting a dialogue inside and outside of Cambodia."
Watch more about Pramsudon Ok & Natarasya: