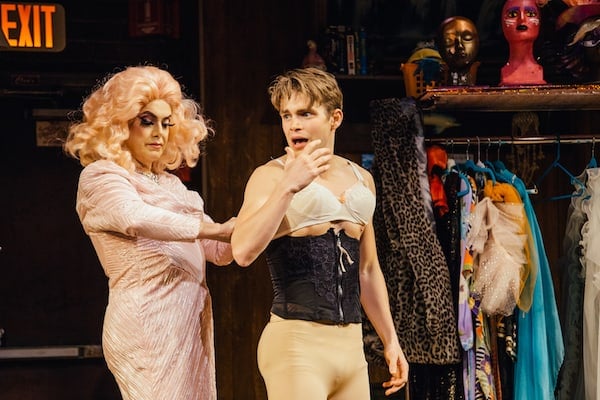 Week after week, we see queens ripping sequins (and each other) to shreds on RuPaul's Drag Race, but in Matthew Lopez's The Legend of Georgia McBride, currently in previews at the Geffen Playhouse in Los Angeles, there's something different about the titular drag performer: He's straight.
The rip-roaringly hilarious play traces Georgia's journey from down-on-his-luck Elvis impersonator to, if not America's next drag superstar, at least one of Panama City, Florida's finest. Overcoming financial hardship and a baby on the way, Casey (Andrew Burnap) transforms into Georgia and transforms his life in the process.
The show is bursting with laugh-out-loud moments and nods to queer touchstones like Edith Piaf, A Star Is Born and The Sound of Music, but it's Matt McGrath (The Broken Hearts Club, Boy's Don't Cry) that will keep you in stitches as Casey's drag mentor Miss Tracy Mills.
"I've known of Matt since the 1940s when he started working! I went back and watched all of his old black-and-white films that he made with Judy Holliday and Jack Lemmon, they were a hoot!" Lopez joked with expert drag queen shade. "Matt has found this way of bonding molecularly with Tracy; I don't know where my writing ends and his acting begins."
McGrath is reprising the role after successful runs in Denver and New York, but he's not the only returning collaborator. Director Mike Donahue, choreographer Paul McGill, as well as the set designer, scenic designer and sound designer have all worked on previous productions of Georgia McBride, allowing them to apply their expertise to perfect the West Coast premiere. "By the time we do our 17th production, I think we're really going to nail it," Lopez quipped.
We spoke with Lopez about what inspired the story, his comedy idols and how drag is a lot like potato salad.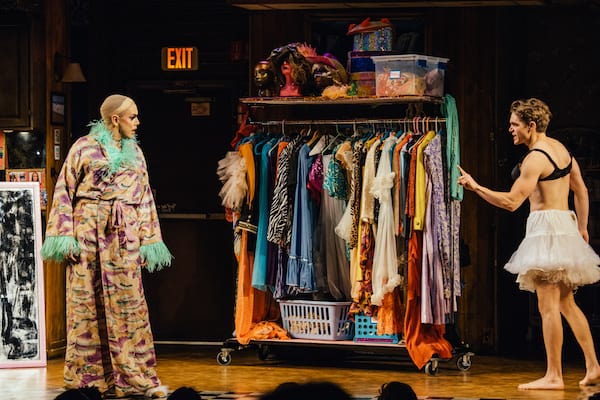 What inspired you to write The Legend of Georgia McBride?
There are two incidents that joined forces in my life to create this play. The first was when I was a teenager I had a friend that started to do drag at this local club in my hometown of Panama City, Florida. That was the one and only gay bar in the town, which is very conservative and very southern and all that fun stuff. I started going, and it was actually my introduction to so much. It was really my first time stepping inside of a gay bar.
It began the process for me of coming out. This was — at the risk of aging myself — back in the 1990s. You know the 1990s, especially in the south, was not today, for sure. It was this huge, almost overnight shift for me in terms of not just my understanding of myself, I think that came later, but just quite simply my understanding of the world. It's like opening a door and realizing there's this whole other part of the house that you've never explored, so to speak.
I would hang out at the bar, and I would watch the shows and I would hang out in the dressing room before and between and after shows. I would watch the queens get ready. I'd watch them walk in as men and walk out as women, and watch that transformation happen. It's funny, my introduction to drag was very much from the get-go about more the technical side of it before I started to really understand the artistic side of it. I saw it as a process. I saw it as a very specific set of steps. I watched the movie getting made before I actually saw the movie.
And then the second part of it was I was just living my life in New York City, doing my writer thing, and I had a commission that I needed to start thinking about, a commission from the Old Globe Theatre in San Diego. My then boyfriend, now husband, had gotten his hands on this playlist that passed from hand to hand. All the music on it was country-western female vocalists, like Tammy Wynette and Dolly Parton and Loretta Lynn and Emmylou Harris, that kind of thing. That's all the playlist was, just song after song after song, and it's this great stuff. We listened to it constantly.
We discovered that the reason it was put together was the boyfriend of the women who created it was investigating drag as a performance art. He was investigating it to do for himself, because he just wanted to learn about it. I was sort of struck by the curiosity of that, of a straight man investigating drag because he really wanted to know what it was about. I thought, 'Well that's a nifty little story, if you could figure out how to tell it.'
I knew that I didn't want to do the version that I had been introduced to through this playlist, which was, you know, educated guy in New York City living in Brooklyn. In some ways, that's just too easy. Like probably half the straight men who live in Brooklyn have done drag at this point.
So how can we find the unlikeliest candidate for that?
And that's where I began to tell my own version of the story, and that's where I began to marry those two sides of the inspiration. And that's where I decided let's make him a straight guy in the panhandle of Florida where I'm from, but let's also create an environment where it's actually kind of dangerous in some ways for this man to do this thing, or at least it should feel dangerous for him. It should feel subversive, but not in the way that drag has always been subversive. It should actually feel transgressive.
And yet it should also change his life, like I did with realizing there was a whole other wing of the house that I hadn't explored. I wanted to create that sense for him as well. As a demonstrably heterosexual man living in the south, can he find an entire other side to his identity and his persona, one that does not in any way change who he is fundamentally? And yet it does change who he is fundamentally. It changes the way he approaches the world, and most importantly it changes how he views himself. Can he still be a straight man and be good at drag?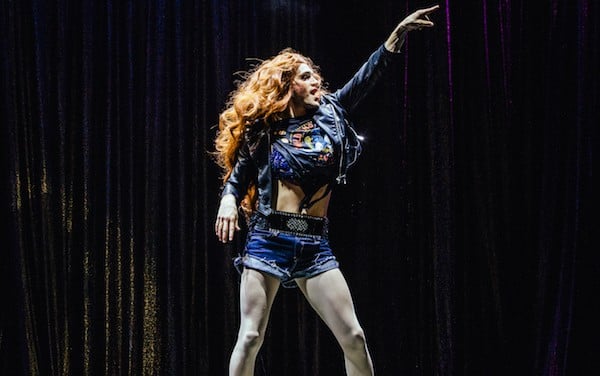 Drag has become a much more prominent part of pop culture. What do you see as the appeal, and why do you think it's enjoying such a mainstream moment?
I think it's just wonderful, and people are catching on to the fact. What's not to love, right? It makes sense, because it is pure entertainment, it's pure joy, it is pure wit, it is fantasy. It's the reason Wizard of Oz is still beloved by every single generation that encounters the movie. I can't help but liken drag to Wizard of Oz. I probably bring up Wizard of Oz references too often in my life, but I feel like drag is Wizard of Oz. It's Kansas, and it's Oz. It brings Oz into Kansas.
… It may be argued that there's such a thing as too much visibility that you lose a sense of culture uniqueness, cultural identity, that it gets disseminated into the mainstream and then you lose it, but I don't think that RuPaul would feel like what goes on on Drag Race is diluting or losing anything. I think it still maintains its integrity. Maybe it's because it's had so much time in the shadows, so much time in secret, so much time as its own thing, it may be indestructible. It may in fact be that thing that can crossover to the mainstream and be what and how it is, and that's pretty exciting to me.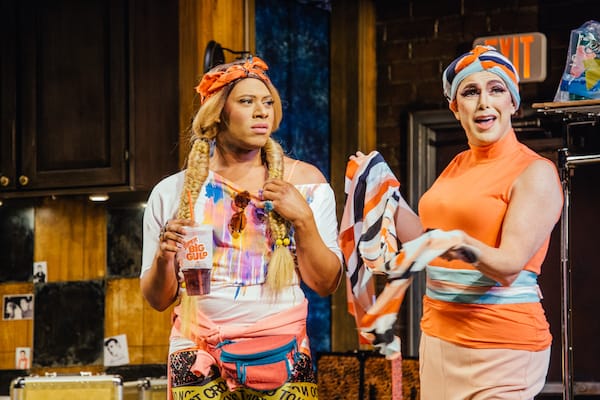 Is there anything about portraying drag in art that you wanted to be careful to avoid?
Drag can be like family recipes. There are a million ways to make potato salad, and everyone is certain their potato salad is the best. It's their grandmother's recipe, therefore it is the best. Everybody has their own potato salad. Southern potato salad is different from German potato salad which is different from New England potato salad, but it's still potato salad.
One of the things that we had to do in the process of doing this play was just be certain of our recipe. I think that the drag that you see in Williamsburg, Brooklyn is vastly different from the drag that you see in Panama City, Florida, which is vastly different from the drag that you may encounter in San Francisco and certainly what you may find in Berlin. It's all different variations on the same basic recipe of potato salad.
One of the things that we had to do was honor the drag that I grew up watching, the drag that I grew up experiencing, which was Panama City drag, which is a little low-budget, a little DIY. I mean, drag has always been DIY, but this was really DIY. Drag on a budget. I think letting go of a lot of 'This is how you make potato salad,' and just making sure we follow the recipe that I've been given as a teenager in Panama City.
Who are your comedic inspirations?
It's pretty broad. I can do high-brow or low-brow, depending on the mood. I have to say that in working on this play, Paul McGill, the choreographer, and I have had a lot of conversations about some of the style of the broader aspects of the comedy, especially when it comes to Tracy, the character of Tracy that Matt McGrath has played since its inception. It's funny, we keep going to back to Jerry Lewis in some ways. Jerry Lewis feels right on the nose when it comes to Tracy. But of course that's just when we're just talking about doing this, getting it on its feet, it just has to be physically broad.
In theater, when it comes to comedy, there's nobody better than Neil Simon. Neil Simon knew how to write a comedy that was funny as hell, but, like I said, grounded in truth. You look at any of his plays, even the sillier ones, they are grounded in high stakes for those characters. I think I learned a lot from Neil Simon. I am just as enamored with an expertly turned quip as I am of an expertly rendered pratfall. I think both are high-art in my opinion. I put Noël Coward and Jerry Lewis on the exact same plane. I think that neither could do what the other does, but they are both exquisite in what they do.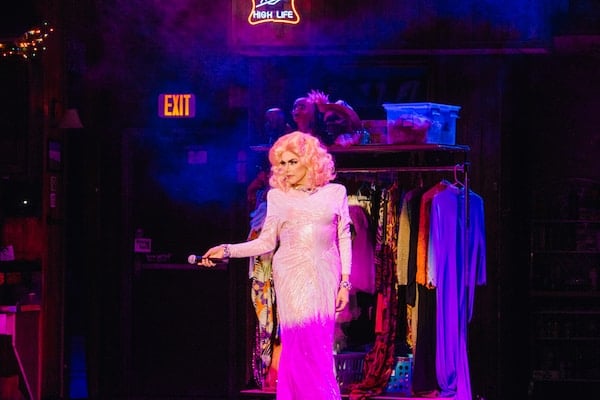 What do you want audiences to take away?
Pure, unadulterated joy. [Director] Mike [Donahue] has said, and I've had some time to reflect on it, that we began the process of rehearsing this show in New York I think four days after the Supreme Court decision, the Obergefell case, which made marriage equality the law of the land. We started rehearsal for this show in New York when Donald Trump was just Donald Trump. We did this play from a place of great confidence for where we were in the world. It felt like a celebration, it felt like a victory lap in some ways, not for our own work on the play, mind you, but for where the community found itself at that time.
The first day of casting in LA was election day last November. We regrouped with this cast to begin rehearsals in March under an entirely new set of circumstances, and the play was being presented in a world that did not exist when it was written and it was first produced for the first two productions. We were worried that the play would suddenly feel insufficient, that it would feel a relic almost. Like it was not what we wanted to see now, like there's nothing to celebrate, there's nothing to feel good about.
What we've learned, at least for ourselves, working on this play is that we feel there is actually a need — I would never say there is a need for my play — but there is a need to still remember what joy and hope and respect and self-esteem look like. We're going to need those reminders and insofar as my play's tiny little part of that, I hope people from now leave the play feeling joyful, just on cloud nine, but also I hope it lifts them. Because I feel like maybe we're in the need of some lifting. We're in LA, there are lots of doctors who can lift you for thousands and thousands of dollars; we'll lift you for the price of a theater ticket.
The Legend of Georgia McBride is currently in previews and opens April 12 at the Geffen Playhouse's Gil Cates Theater in Los Angeles. Get your tickets here.