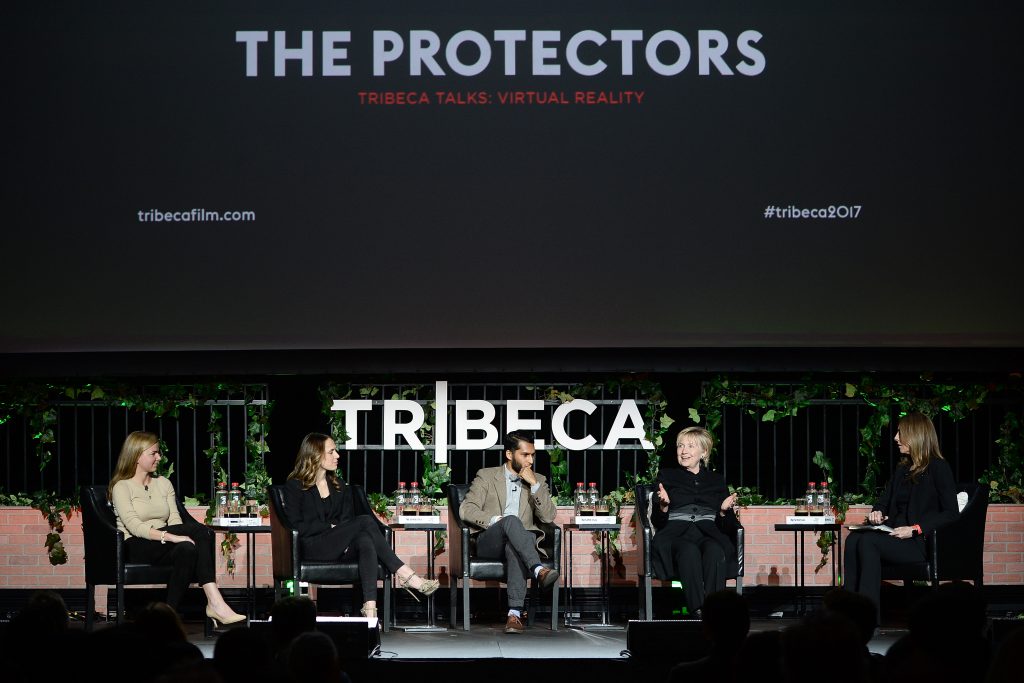 How's that for an unannounced appearance? Hillary Clinton was a surprise guest at the Tribeca Film Festival Saturday night (Earth Day) when she joined a panel after the premiere of National Geographic Documentary Films' The Protectors: A Walk in the Ranger's Shoes.
Directed by Academy Award winner Kathryn Bigelow with two-time Emmy nominee and VR-veteran Imraan Ismail, the eight-minute short was shot entirely in virtual reality, and it chronicles a day-in-the-life of the rangers who face constant danger and sometimes death to save the lives of elephants in Garamba National Park, in the Democratic Republic of the Congo.
In 2013, Hillary and Chelsea Clinton unveiled an $80M effort to fight illegal ivory trade and combat elephant poaching, and as Secretary of State, Clinton worked to bring the issue of global wildlife trafficking out of obscurity: "I'm very proud that under President Obama, the United States passed a near federal ban on the transportation and interstate trafficking of ivory in our own country," she told 250 very lucky audience members who had just used VR headsets to experience the world premiere of the film in 360 gut-wrenching degrees.
"We [the Obama administration] had 3 overriding goals – stop the killing, stop the trafficking, and stop the demand…and part of that is protecting these rangers." An estimated 100 African elephants are killed each day by poachers seeking ivory, meat and body parts, and they can be extinct by the end of the next decade.This film is a call to action to help African Parks and to end the Ivory War.
Clinton thanked the audience for "seeing [the] remarkable film which brings to reality what we're up against." And on the day when crowds in over 600 cities around the world – from the Global South to the North Pole – marched for science, she joined in and voiced her support for science and evidence-based research: "Here it is Earth Day and we are marching on behalf of science. Part of science is understanding the intricate relationships we share with all those who are on this planet and in particular large mammals like elephants."
The panel was moderated by Bigelow, and it also featured African Parks CMO Andrea Heydlauf, Nat Geo's Rachel Webber and director Imran Ismail, who explained just how hard those Mother Nature heroes will fight for the elephants: "The challenges, threats, dangers the rangers are facing each day are almost insurmountable. They're outmanned outgunned and they're putting themselves in the line of fire. As long as there are elephants, these rangers will just keep on doing it."
National Geographic will premiere "The Protectors" on May 1 on VR app Within, then on YouTube and Facebook360 the following week.
Photo credit: National Geographic/Anthony Behar