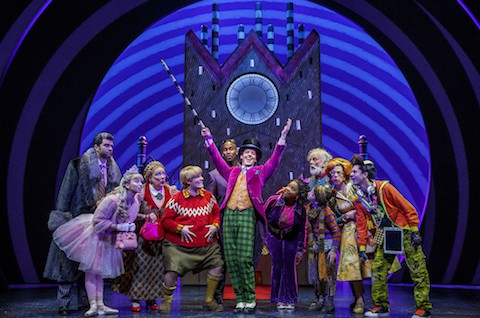 To get to dessert, by now most of us have come to accept we have to eat our vegetables first. But the joy of a candy store (or factory, even) is surely skipping right to the good stuff. Not so with Charlie and the Chocolate Factory, a relatively low-glycemic new musical that opened at the Lunt-Fontanne Theatre last night.
Based on the beloved 1964 children's book by Roald Dahl, the musical is first and foremost a test of patience. Unwrap your candies before curtain and make sure they'll hold you over: We're not getting to the factory until act two. The plodding first half of book writer David Greig's adaptation is committed to showing just how deserving have-nothing Charlie is of the big break we know full well is coming, and the total unworthiness of the other spoiled-rotten golden ticket-winners.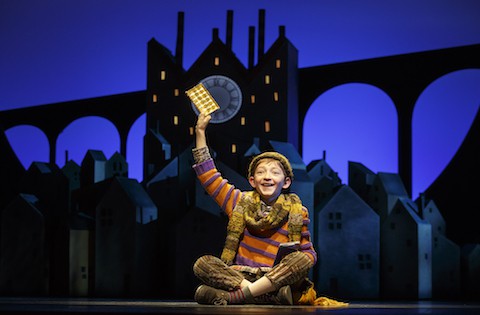 Hammering home the story's moral framework is one the Broadway production's many plays for present-day resonance, but it's not the most fun way to spend an hour.
Destitution has never seen a more cheerful or nobler clan than the Buckets. Charlie Bucket (Ryan Foust on the night I attended) lives with his mother (Emily Padgett) and his four grandparents, including Grandpa Joe (John Rubinstein), who all share a lofted bed in the junkyard set piece that serves as their abode. What might have been a quick setup of Charlie's home life turns staid and drawn-out as we keep returning to it, like a storybook page that won't turn. (Remember, four of them can't get out of bed.)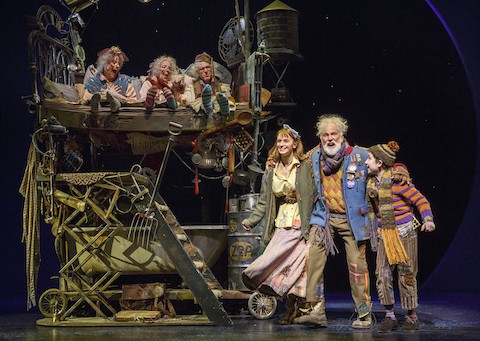 As in the film adaptations, Charlie's fellow winners are vehicles for "what's wrong with kids today," and are likewise shaped to fit the times.
In numbers so broadly caricatured they'd fit right in at Epcot Center, we meet Augustus Gloop (F. Michael Haynie) still a Bavarian sausage fiend, and bossy Veruca Salt (Emily Pfaeffle) who now hails from, you guessed it — Russia. Violet (Trista Dollison) is still obsessed with gum, but lives in Hollywood, where she wants to be social media famous for…chewing gum. Mike Teavee retains his love for TV, but he's also sort of a punk who wears an iPad around his neck and somehow hacked his way into getting a golden ticket (don't ask). To round out this collage of current ills, Mike also does Trump impressions.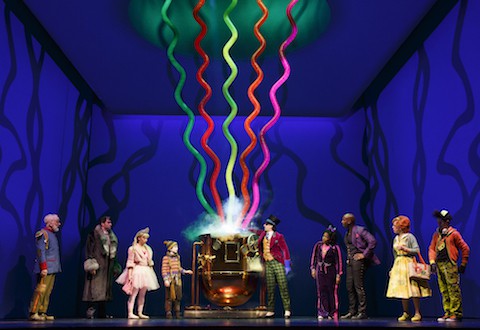 Oh, and Willy's lurking around here and there, too. After opening the show with a languid rendition of "The Candy Man" (one of several numbers by Leslie Bricusse and Anthony Newley from the 1971 movie lifted here), Willy goes undercover as the owner of the "pop-up" chocolate shop on Charlie's corner. But only once we reach the factory at last does the musical's leading man, a sly and off-beat Christian Borle, finally get to take the reins and drive the show with some momentum, though many will know just where it's going.
Don't expect grand confectionary spectacle, though; director Jack O'Brien and designer Mark Thompson take the whole "world of pure imagination" thing pretty literally. The factory is essentially a blue-tinted box that plays home to various oversize, toy-like gadgets. While there is something to be said for staging that requires audiences to meet it halfway, this minimalist approach may not exactly be the payoff people were waiting for. (The most elaborate reveal, the chocolate room, is wheeled out like a diorama.)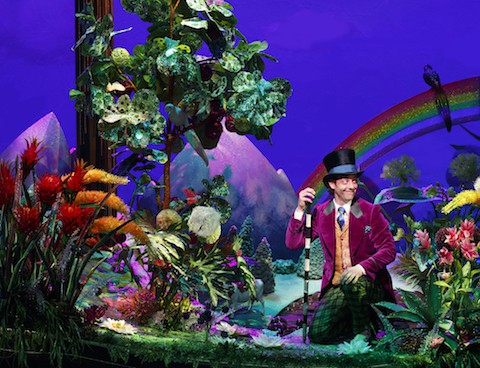 Nor is there too much dwelling upon the gruesome fates of the vile child guests. Though they ultimately survive in Dahl's original story, here most of them don't escape alive. It might be a bold, macabre choice if their deaths weren't so quickly glossed over.
Borle is, all the same, a winning ringleader of a somewhat lackluster circus. And while you may not leave humming Marc Shaiman and Scott Wittman's score (as you might have Hairspray! or even Smash), they do deliver funny, colorful numbers for each of the evil spawn, and a particularly touching final duet between Willy and Charlie, staged beautifully by O'Brien.
Let's be honest, though. It's really the creepy, creepy Oompa Loompas who walk (waddle? paddle?) away with the show when they finally turn up (the ingeniously low-fi puppetry design is by Basil Twist, the choreography by Joshua Bergasse). The Oompas are this factory's true makers of magic; would that they showed up earlier, and more often, this Charlie might have at least had a shot at sating our sweet tooth.
Follow Naveen Kumar on Twitter: @Mr_NaveenKumar (photos: joan marcus)