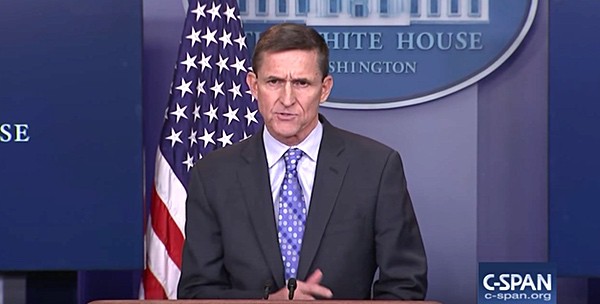 The White House has rejected a request from the House Oversight Committee for documents related to payments that former national security adviser Michael Flynn received from Russian firms including state-run RT.
House Oversight Committee Chair Jason Chaffetz and Rep. Elijah Cummings both said that Flynn appears to have behaved illegally with regard to the payments and are requesting he come forward and testify.
Legislative affairs director Marc Short argued that the committee was requesting both documents that are not in possession of the White House because they involved Flynn's activity prior to President Trump's January 20 inauguration and others that involved sensitive information.
"It is unclear how such documents would be relevant to the stated purpose of the committee's review, which according to your letter is to examine Lt. Gen. Flynn's disclosure of payments related to activities that occurred in 2015 and 2016, prior to his service in the White House," Short wrote in a letter dated April 19, sent to committee leaders….
…Flynn did not list the payments from Russian companies in his original financial disclosure forms submitted in February. He filed an amended disclosure last month reporting payments for speeches from three Russian-linked companies, including RT, but the move has remained under scrutiny amidst the FBI's ongoing investigation into possible coordination between the Trump campaign and Russia during the election.
The letter from the White House:
#WhiteHouse letter to #Chaffetz and @RepCummings on Michael #Flynn security clearance and #Russia payments. pic.twitter.com/NCQWHbJN7N

— Oversight Committee (@OversightDems) April 25, 2017
Chaffetz and Cummings:
House Oversight Committee Chairman Jason Chaffetz says it appears that Michael Flynn accepted money from Russia https://t.co/Zg1v1CEk1P

— CNN Politics (@CNNPolitics) April 25, 2017
Chaffetz:
"I see no information or no data to support the notion that General Flynn complied with the law," Rep. Chaffetz says https://t.co/T5uqoA85rO pic.twitter.com/hhLaCmjI6v

— CBS News (@CBSNews) April 25, 2017
Cummings:
Rep. Cummings says there is "no evidence" in Flynn's security clearance docs that he disclosed payments from Russia https://t.co/WvPtrah5Xd

— CNN Politics (@CNNPolitics) April 25, 2017
Full presser: