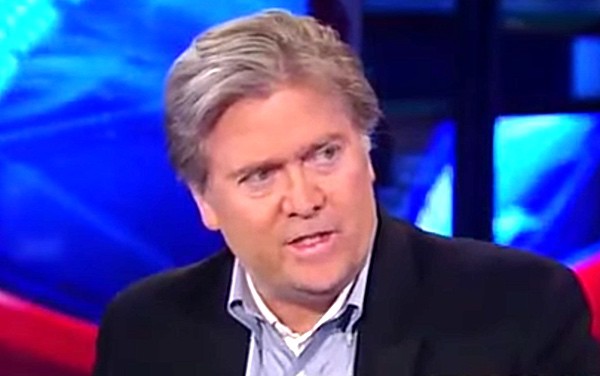 White House strategist Steve Bannon has been removed from the National Security Council by Donald Trump, according to the Washington Post:
Two senior White House officials said Bannon's departure was in no way a demotion and that he had rarely attended meetings since being placed on the council. They and others interviewed for this story spoke on condition of anonymity because they are not authorized to speak publicly on the issue.
Bannon's place on the committee had been a subject of intense controversy when the move was announced in January. National security experts, including a former Obama administration official, characterized it as an elevation of a White House official with no national security experience, even while other national security officials in the administration were included on the NSC only when "issues pertaining to their responsibilities and expertise" were involved. The White House later added the director of the CIA to the NSC.
The Joint Chiefs chairman and intelligence director are having their roles as "regular attendees" of the principals committee restored, according to a regulatory filing dated Tuesday. The director of the Central Intelligence Agency will also have a permanent role on the committee.
Homeland Security Adviser Tom Bossert also had his role on the council downgraded, but National Security Adviser H.R. McMaster can delegate his authority to call meetings and set the agenda to Bossert, according to the filing.
"Susan Rice operationalized the NSC during the last administration. I was put on to ensure that it was de-operationalized," Bannon said in a statement to The Wall Street Journal. "General McMaster has returned the NSC to its proper function."