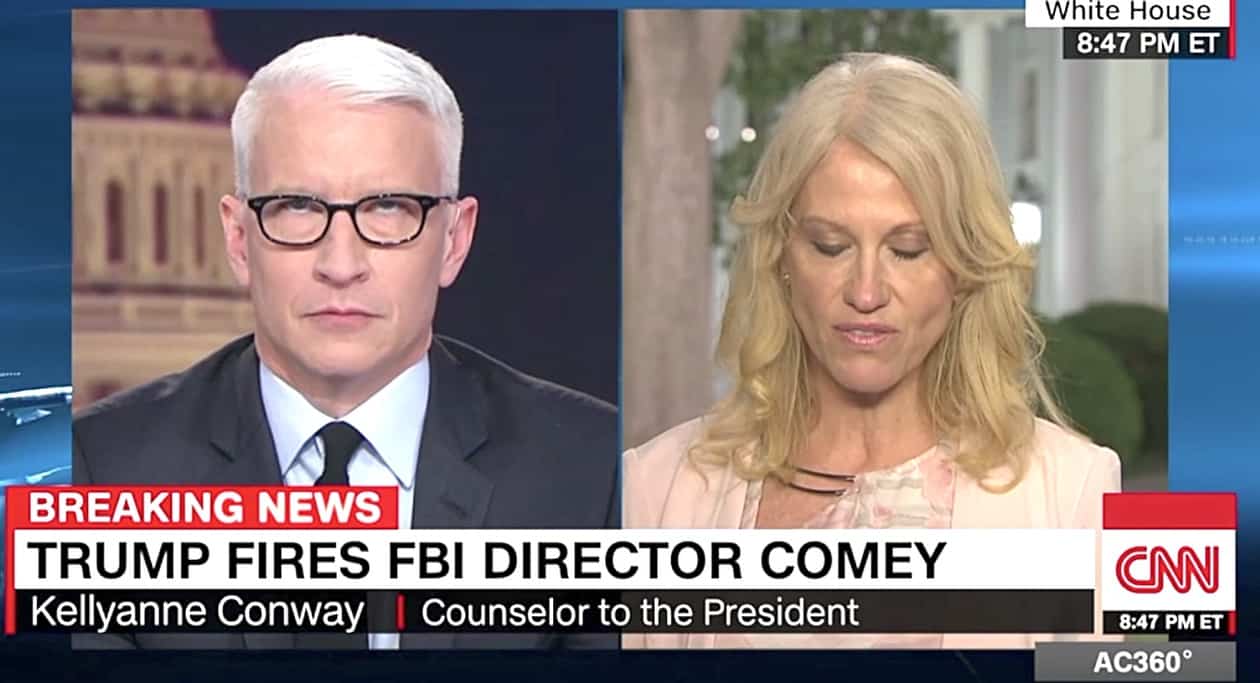 ANDERSON COOPER EYE ROLL. The Silver Fox expresses his Kellyanne Conway thoughts exactly (10:44).
https://www.youtube.com/watch?v=0Cg0mRT7VR0
NYT. Comey fired over "investigation that could bring down a president". "The obvious historical parallel to Mr. Trump's action was the so-called Saturday Night Massacre in October 1973, when President Richard Nixon ordered the firing of the special prosecutor investigating Watergate, prompting the principled resignations of the attorney general and his deputy. But now, there is no special prosecutor in place to determine whether the public trust has been violated, and whether the presidency was effectively stolen by a hostile foreign power. For that reason, the country has reached an even more perilous moment."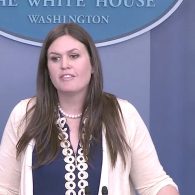 ATROCITIES. What the White House says Comey committed.
KATY PERRY. She's on Calvin Harris's new album.
WEST VIRGINIA. Supreme Court rules 3-2 that sexual orientation not covered under hate crimes law, dismisses case against former Marshall University football player Steward Butler. "In arguments before the Court last month, Cabell County Assistant Prosecutor Lauren Plymale said Cabell County Circuit Judge Paul Farrell was wrong when he dismissed the charges against Bulter citing state law does not include sexual orientation as a protective class under the hate crimes statute. Plymale argued the word sex meant sexual orientation."
DA PLANE DA PLANE. Jamie Dornan joins biopic about Fantasy Island Tattoo actor Herve Villechaize.
CRIME SCENE. Ricky Martin finds the body of Gianni Versace in Versace: American Crime Story shoot.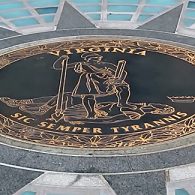 VIRGINIA. Court to consider whether gay couples have right to challenge law allowing civil officers to refuse gay marriages: "The couples are asking the 4th Circuit Court of Appeals in Richmond to revive the lawsuit because they say the state is spending their tax dollars to accommodate magistrates' religious views. The couples — two gay and one interracial — argue those expenditures give them the right to sue, despite a district court ruling to the contrary."
NORTHERN IRELAND. High court to consider case of bakers who refused to bake cake with pro-gay marriage slogan: "The Supreme Court has listed a two-day hearing for legal arguments for October. A lower court ruled the refusal of family-run Ashers to make a cake iced with the slogan Support Gay Marriage in 2014 was discriminatory. The order was placed at its Belfast shop by gay rights activist Gareth Lee."
COOKED GOOSE. Lightning strike brings down a Canada goose.
DATA ENTRY KING. This inventory taker at a convenience store is going viral for speeeeeeed. "He said he had been doing this for 30 years! People that came into store would stop in their tracks and watch this guy with their jaw dropped. At first I thought is this for real and it was!
HUMP DAY HOTTIE. Hamada.