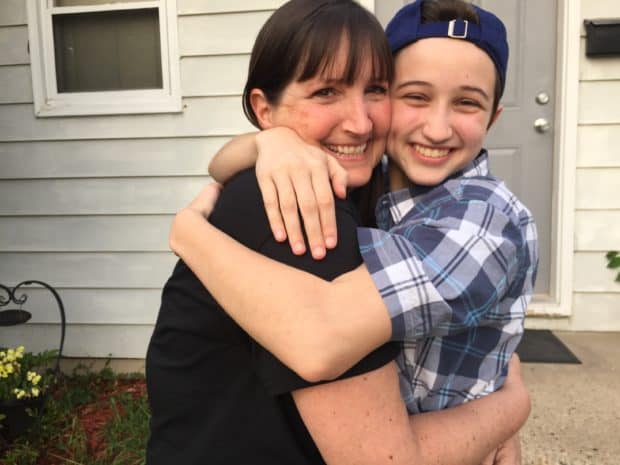 The 7th Circuit Court of Appeals today issued a major ruling that transgender students are protected from discrimination under Title IX and the Equal Protection Clause of the 14th Amendment.
From the Transgender Law Center which represented Whitaker:
Today, the Seventh Circuit Court of Appeals issued a groundbreaking ruling in favor of Ash Whitaker, the transgender student plaintiff in Whitaker v. Kenosha Unified School District. In a unanimous decision authored by Judge Ann Claire Williams, the court upheld the preliminary injunction, issued by a federal district court in September 2016, that has allowed Ash, a senior at Tremper High School in the Kenosha Unified School District (KUSD) in Kenosha, Wisconsin, to use the boys' restrooms at school throughout his senior year without fear of discipline or invasive surveillance by school officials.
In this landmark decision, the unanimous three-judge panel held that transgender students are protected from discrimination under Title IX of the Education Amendments of 1972 (Title IX) and the Equal Protection Clause of the Fourteenth Amendment to the U.S. Constitution. The court agreed with the lower court's conclusions that Ash was harmed significantly by the Kenosha Unified School District's discriminatory practices that singled him out from other students and that KUSD failed to provide more than "sheer conjecture" that permitting Ash to use the boys' restrooms would harm anyone. The court wrote:
"The School District has failed to provide any evidence of how the preliminary injunction will harm it, or any of its students or parents. . . . , whereas the harms to Ash are well-documented and supported by the record." The court further described the school district's actions as "arbitrary" and in violation of Ash's Constitutional rights.
With this decision, the Seventh Circuit (which covers Wisconsin, Illinois, and Indiana) is the first federal appeals court to find conclusively that a transgender student has the right to be treated in accordance with the student's gender identity at school under both Title IX and the Constitution. Notably, it is also the first decision to reach that conclusion without reliance on the Obama Administration's guidance on schools' Title IX obligations to transgender students, which the Trump Administration rescinded in February.
"I am thrilled that the Seventh Circuit recognized my right to be treated as the boy that I am at school," said Ash. "After facing daily humiliation at school last year from being threatened with discipline and being constantly monitored by school staff just to use the bathroom, the district court's injunction in September allowed me to be a typical senior in high school and to focus on my classes, after-school activities, applying to college, and building lasting friendships.
"As I look forward to college next year, I hope my case will help other transgender students in Kenosha and elsewhere to just be treated the same as everyone else without facing discrimination and harassment from school administrators."
Earlier this year, the Supreme Court returned a similar case back to the Fourth Circuit appeals court for further consideration in light of the government's rescission of that Title IX guidance. In that case, G.G. v. Gloucester County School Board, the Fourth Circuit had relied on the guidance to find that a school district violated Title IX by excluding Gavin Grimm, a transgender boy, from boys' restrooms at his Virginia high school. Today, the Seventh Circuit found that, even absent guidance from the federal government, "[a] policy that requires an individual to use a bathroom that does not conform with his or her gender identity punishes that individual for his or her gender nonconformance, which in turn violates Title IX."
Before the injunction, Ash had been using the boys' restrooms for the first seven months of his junior year without incident until school administrators intervened, threatened him with disciplinary action, and subjected him to constant surveillance. To avoid punishment, Ash tried to avoid using the bathroom at school altogether. As a result of being singled out for discrimination by his school, Ash suffered serious depression, anxiety, and other physical and educational harms.
The court found that the school district presented no evidence that Ash's restroom use affected any other students. The court noted that the school district's failure to submit such evidence was consistent with the amicus brief submitted by school administrators from across the country, who together "are responsible for educating approximately 1.4 million students." Those school administrators "uniformly agree that the frequently-raised and hypothetical concerns about a policy that permits a student to utilize a bathroom consistent with his or her gender identity have simply not materialized. Rather, in their combined experience, all students' needs are best served when students are treated equally."
"We're grateful that the court recognized that discrimination against transgender students is a form of unlawful sex discrimination that can cause serious, but avoidable harms, to students like Ash," said attorney Joseph Wardenski of Relman, Dane & Colfax, who argued the case in the Seventh Circuit. "It has been a privilege to represent this courageous young man as he stands up for his rights and the rights of other transgender students. The Seventh Circuit's ruling today will not only help Ash, but will send a message to all schools that transgender students are entitled to equal treatment under the law."
"This is a great victory for transgender students," said Kris Hayashi, Transgender Law Center's executive director. "The battleground may be bathrooms, but the real issue is fairness and transgender people's ability to go to school, to work, and simply to exist in public spaces. This win makes that more possible for more people."
"Ash can demonstrate a likelihood of success on the merits of his claim because he has alleged that the School District has denied him access to the boys' restroom because he is transgender. A policy that requires an individual to use a bathroom that does not conform with his or her gender identity punishes that individual for his or her gender non-conformance, which in turn violates Title IX. The School District's policy also subjects Ash, as a transgender student, to different rules, sanctions, and treatment than non-transgender students, in violation of Title IX. Providing a gender-neutral alternative is not sufficient to relieve the School District from liability, as it is the policy itself which violates the Act. Further, based on the record here, these gender-neutral alternatives were not true alternatives because of their distant location to Ash's classrooms and the increased stigmatization they caused Ash. Rather, the School District only continued to treat Ash differently when it provided him with access to these gender-neutral bathrooms because he was the only student given access."
"[T]he School District's policy cannot be stated without referencing sex, as the School District decides which bathroom a student may use based upon the sex listed on the student's birth certificate. This policy is inherently based upon a sex-classification and heightened review applies. Further, the School District argues that since it treats all boys and girls the same, it does not violate the Equal Protection Clause. This is untrue. Rather, the School District treats transgender students like Ash, who fail to conform to the sex-based stereotypes associated with their assigned sex at birth, differently. These students are disciplined under the School District's bathroom policy if they choose to use a bathroom that conforms to their gender identity. This places the burden on the School District to demonstrate that its justification for its bathroom policy is not only genuine, but also 'exceedingly persuasive.' See Virginia , 518 U.S. at 533. This burden has not been met here."
"A transgender student's presence in the restroom provides no more of a risk to other students' privacy rights than the presence of an overly curious student of the same biological sex who decides to sneak glances at his or her classmates performing their bodily functions."