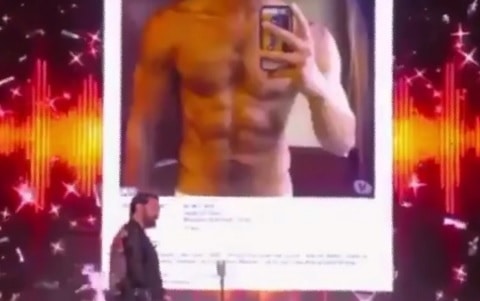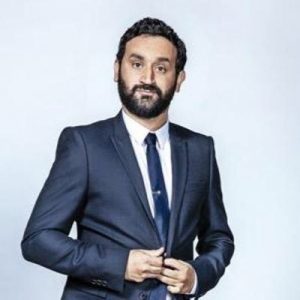 Close to 20,000 people have filed complaints after a French TV presenter posted a spoof ad on a gay dating website and made fun of those who replied live on air.
Cyril Hanouna (right), the host of Touche pas à mon poste ("Don't touch my TV"), posed online as a bisexual man called Jean-José.  According to Ouest France, he engaged in suggestive chat with respondents as guests, a studio audience and more than a million viewers watched.
Hanouna also used a photo of YouTube star Max Emerson's torso for the profile picture without permission, reports  Gay Times.
According to LGBT activists, at least one victim was left in a "state of appalling distress".
Nicolas Noguier of Le Refuge, a group working with young victims of homophobia, wrote on Facebook that one hotline operator spent most of that night talking to one of Hanouna's victims.
"We were devastated by his tears and his fear of being found out by his parents and those around him," Noguier said.
Joël Deumier, president of SOS Homophobie, said:
"When you let people get away with behaviour like this, you trivialise homophobic discourse. The sketch was deeply homophobic".
For his part, Hanouna said he has been "hurt" by allegations of homophobia which was "everything he had been fighting against for years and the opposite of TPMP".
A number of major advertisers including Bosch, Chanel, Skoda, Thomson, Orange and Disney have since dropped Hanouna's show.
A Bosch spokesperson said:
"Bosch does not endorse what happened and what was said. The brand has decided to stop the digital and TV advertising going and coming for this show."
Chanel said it had asked its agency "to make sure that we are no longer present on this show and we will increase our vigilance so that our guidelines on the purchase of space are respected."
Hanouna's show has been the subject of complaints about sexism and homophobia in the past.
The BBC reports that in October 2016, a male guest on his show kissed a female guest on her breast after she rebuffed his requests for a kiss. That incident prompted more than 250 people to complain to the regulator.
Watch the segment below. Knowledge of French not required.
(Image via Twitter)
https://www.youtube.com/watch?v=7rXtP-bBH70