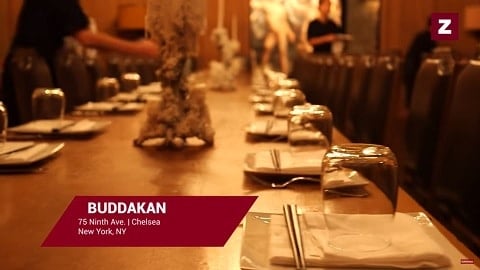 A former waiter at a New York restaurant alleges that he was fired because he is HIV positive.
27-year-old Jack Mountford started working at Buddakan in Chelsea in February 2013 and says on a good week he would be responsible for up to $20,000 in sales. 
However, according to the Manhattan federal court suit against Buddakan and the Starr Restaurant Organization Mountford was fired in June 2016 after he returned from a vacation.
The New York Post reports:
Mountford has been HIV-positive since the spring of 2010. He notified the general manager and other managers at the time, the suit says, because on occasion he needed to fly home to meet with his medical team.
Buddakan management accommodated Mountford, allowing him to take breaks so that he could inject himself in the stomach with medication, the suit says….
…A scathing August 2015 review in Eater NY prompted a management overhaul, and in June 2016 owner Starr Restaurants brought in a new general manager, Brandon Wergeles, the suit says.
After Mountford returned from a weeklong vacation last June 17, he was told by a colleague that Wergeles had been meeting with other managers to discuss Mountford's health.
A week later, Mount­ford said, he was confronted by Wergeles and two other managers. He was told he was a "huge asset" to the company, but "became a liability" because a patron alleged his credit card was charged twice on a $62 bill, the suit says. He was also accused of taking an unauthorized vacation.
Wergeles said he had "heard other things that were concerning," the suit says. When Mountford asked if he was referring to his HIV status, Wergeles responded, "Don't you think I should be made aware of a health condition that could be detrimental to your job performance?" according to court papers.
Mountford told The Post that after being "humiliated" and fired, Wergeles "offered to write him a glowing recommendation." A manager then escorted Mountford out of the restaurant.
Mountford "broke down and cried."
Mountford has denied the allegations that he overcharged a customer and took an unauthorized vacation.
"It's Chelsea and the Meatpacking District," he said. "I never expected to be in a position where a piece of my life that is so personal and unrelated to my job performance was thrown in my face."
https://twitter.com/icon_ic/status/866770968248823809
His lawyer, Paul Liggieri, said: "It's not the spread of HIV that [the] defendants should worry about, it's their spread of prejudice."
The lawsuit seeks unspecified damages. Buddakan has not commented on the case.
The restaurant was used as the location for Carrie Bradshaw's engagement party in Sex and the City.
Watch a "behind the scenes" report on Buddakan below.