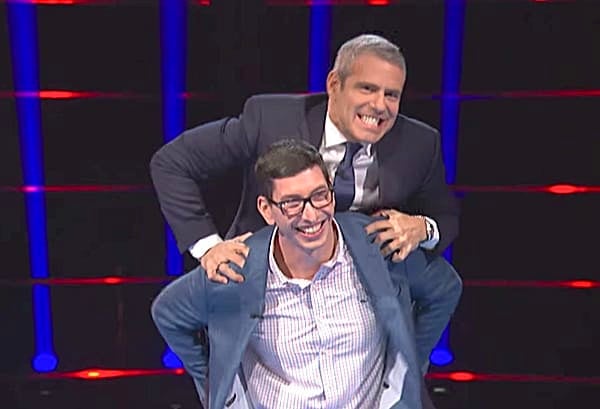 Fans of '80s camp and Andy Cohen alike are in for a treat. Cohen's revival of the classic dating show Love Connection premiered Thursday night on Fox and as the show continues, it will include gay singles looking for love as well, according to media reports.
The revival boasts some departures from Chuck Woolery's classic dating show, including that in this iteration, if the audience prefers a suitor that the contestant does not, the suitor can go with the audience pick for $10,000, TooFab reports.
"There's a little love or money twist in the end," Cohen teased in a first look.
Contestants will also date each of the suitors, with a $500 per-date budget, and each will give a score based on their first impressions, Cohen told TooFab.
While that $10,000 is a nice prize, Cohen also revealed an important upgrade for the show: this go around, there will be plenty of gay contestants.
"It's 2017, and they should just be treated the exact same way as I'm treating everyone else," Cohen told the Advocate about the gay and lesbian contestants. "I think it's just kind of this post-gay world that we live in, where it's just another part of this dating show."
The choice to include gay singles was Cohen's idea, the Advocate reports, and the suggestion was met with an emphatic yes.
"The more visibility, the better," Cohen continued. "A network show where you have gay people dating? I think it's great."
More than anything, Cohen said that this go around, viewers can expect more diversity and variety in the contestants and their stories.
"We've got a great lesbian group of daters, one of whom comes out to her mother on the air. We've got a man who is in his 70's who went on his first Tinder date, but the woman stood him up so we set him up with three dates. We've got gay guys. We have a lot of big ones," Cohen told TooFab.
You can watch a complete first look at Love Connection below: