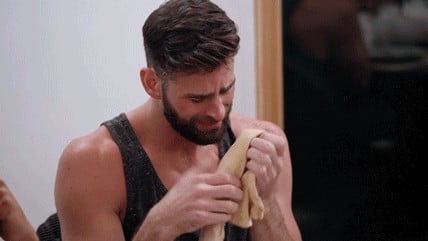 Finish those friendship bracelets, and get ready for the talent show, because our very special summer is about to come to an end. It feels like just yesterday we were meeting Patrick, Khasan, Jorge, ugh, Cheyenne, Justin, little crazy Brandon, winged Brandon, drag queen Brandon, Jallen the jolly giant, I don't know, some other Brandon playing dodgeball in heels or something. But now we're at our very last weekend.
And wouldn't you know it that just as we're packing the last of our pink Speedos away, things actually, truly start to get interesting.
That's why this final weekend breaks from Fire Island's typical one weekend per episode format for a super-sized journey into darkness.
Before we get into all the D-list celebrity aided drama unfolding over dinner, we've got to get the usual junk out of the way. Khasan is, as always, at some dance studio. (Though this time he's working on choreo for the fantastic Betty Who, one of those people whose entire career is being single-handedly supported by gay men, like Steve Grand, Ivy Levan or Colton Haynes.) Jorge is Facetime-complaining at someone about how his boyfriend Fabio is blowing him off. Brandon wants his summer to "go out with a bang — pun intended!" which isn't gross because it's about sex, but IS gross because it's a terrible joke. God, Brandon, you're such a Brandon.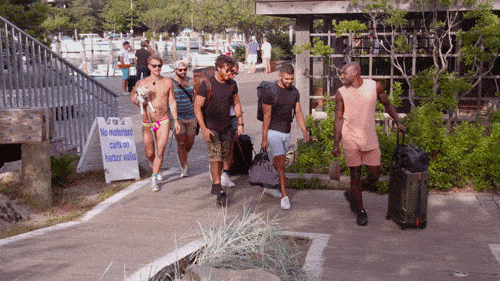 The boys arrive on the island, and Patrick meets them in his tiniest pink bikini. I swear his clothes are getting skimpier and skimpier every episode. At this point his tanks are more like statement necklaces, and he's got a tuft of pubic hair sitting atop the waistband of all his swimsuits. I'm no prude, but, seriously, Patrick, put on some clothes.
He informs everyone that he's performing his original country song at a "showcase," but later calls it an "open mic," which is a very different thing! I would totally come support you at your showcase. I will absolutely not come see you at an open mic. In fact, I'm more likely to go to your improv 101 class show than your original country music open mic.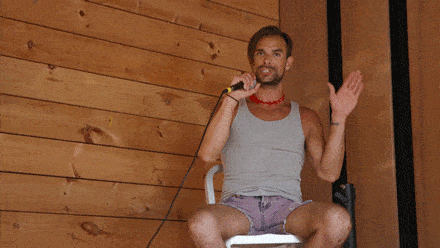 The show (open mic) is bizarre. The other acts all appear to be dance acts, while Patrick sits behind the audience and sings along to a recorded track. He's not bad by any stretch (though it's no "Money Can't Buy You Class" in terms of reality TV tunes). Earlier in the episode Patrick says "What I love about Fire Island is that it gives you plenty of opportunity to perform." I mean, if your definition of "performing" is singing along to your iPod for a handful of your friends while you sit on plastic lawn furniture, you could technically do that literally anywhere.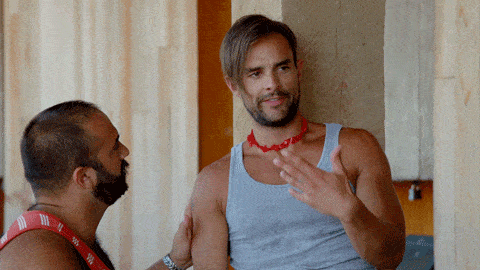 After the show, Patrick races outside because singing gave him so many feelings. Then he proceeds to have a talkback about the performance as the roommates indulge him in the Behind the Music of this incredibly on-the-nose break-up song (available now on iTunes). As much as I hate agreeing with Cheyenne, it all does feel a little put on.
The crux of the episode is Patrick's ex-boyfriend, actor Chris Salvatore, is coming for a visit, and, boy oh boy does he give Cheyenne a run for his money to be the worst. You may have seen him in Eating Out 3, Eating Out 4 or Eating Out 5, which I guess technically makes him an actor, but he's mostly just another professional Instagram thirst trap. It's a shame, because Salvatore recently built up so much goodwill with the viral story of his relationship with his elderly neighbor. Unfortunately, even that heartwarming tale isn't enough to compensate for his showing in last night's episode.
The fact he's a actor/singer-songwriter/model/monster is enough to make most people spiral in this kind of reality setting, but he's also got a history with Cheyenne, adding so much more fuel to this already flaming mess.
Apparently, years prior, Cheyenne's now ex-boyfriend was at a hot tub party (a very, very gay start to any story) when Chris started hitting on him. Cheyenne spotted all this from a nearby balcony and flipped out on his boyfriend and Chris for flirting. It sounds like a scene from some telenovela, except probably with more house music and everyone has HPV.
Tensions are already high when Chris arrives, and Cheyenne makes the very Cheyenne decision to be outwardly cold to him. Patrick and Chris step out on the veranda and immediately get into a weepy on-camera conversation about their failed relationship. Chris is the first reality-TV guest star since Allison Dubois on Real Housewives of Beverly Hills to make such an impression so quickly.
They sit down to dinner, and they're barely onto their second case of rosé before Patrick calls out Chris and Cheyenne's history. Cheyenne snaps at Patrick for bringing this up, Patrick shoots back that Cheyenne should give Chris a chance and Chris tries in vain to interject that they've all learned an important lesson to not judge a book by its cover. Dude. For real? Not only is that one of the most egregiously overused cliches in human history, but it's also not even entirely applicable to this situation. Now hush, the grown-ups are talking.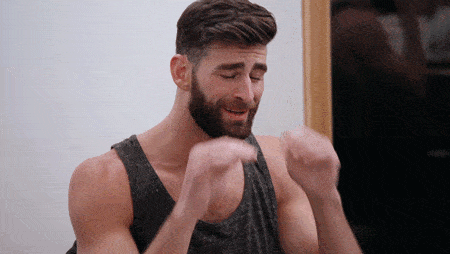 The shouting continues to escalate. Cheyenne's boyfriend, Kyle (who looks mostly like an extra swole Nick Carter), sits there in a vodka and human growth hormone stupor while this all unfolds. Eventually Chris whimpers "I'm sensitive!" before letting out this mezzo-soprano quiver "This is hard!" Then he and Patrick storm out.
Even Justin is like "Who is this guy?!" And if Justin thinks you're having too many feelings, gurl, you are having too many feelings.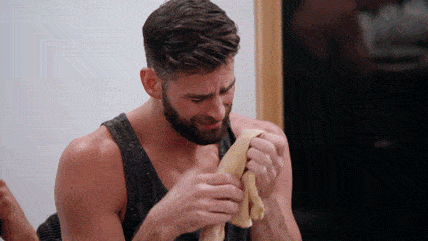 Outside, Patrick consoles a hysterically sobbing Chris. And, look, I know it's mean to laugh at Chris while he's upset, but, also, in my defense, he does earnestly try to blame some of it on Mercury being in retrograde. This guy is a disaster, and I want nothing more than for him to be a full-time cast member on season two.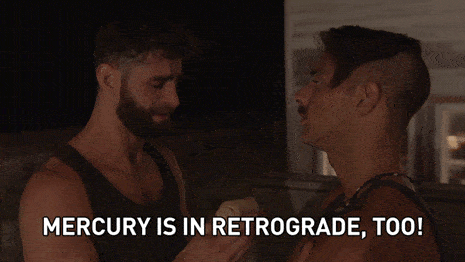 However, the real escandalo? Patrick reveals that he's been keeping a secret: Cheyenne's been cheating on his boyfriend, and now he's going to expose him!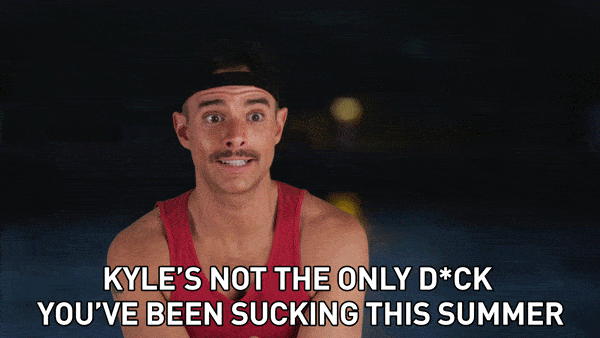 To be continued!