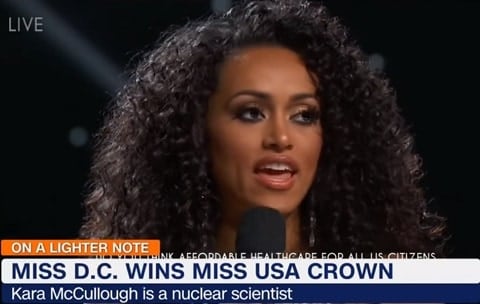 The newly-crowned Miss USA has caused a social media hullabaloo by claiming that affordable healthcare is a privilege, not a right.
Kara McCullough, who is also a scientist at the U.S. Nuclear Regulatory Commission, linked health care access to job creation, suggesting that people without a job are not entitled to coverage, reports the NY Daily News.
"I'm definitely going to say it's a privilege," McCullough said during the Sunday night pageant at the Mandalay Bay Convention Center in Las Vegas. "As a government employee, I'm granted health care. And I see firsthand that for one, to have health care, you need to have jobs, so therefore we need to continue to cultivate this environment so that we're given the opportunities to have health care as well as jobs for all Americans worldwide."
While many conservative and right wing commentators supported McCullough, the reaction elsewhere was cooler.
Twitter user Kyle Morris wrote: "The hypocritical left is outraged because #MissUSA 2017, Kára McCullough, has different views on feminism and health care in America."
https://twitter.com/RealKyleMorris/status/864198652054695936
@AmericanKeith wrote: "HOORAY FOR #MissUsa Healthcare is an absolute privilege Liberals, get off your fat asses, get a job and pay for it"
https://twitter.com/americankeith/status/864212350894788609
However, others were not so taken with McCullough's comments.
Kara McCullough.is very naive in calling health care a privilege. Before Obamacare, people worked in places that did not provide healthcare.

— Alexis (@eemc2) May 16, 2017
New post: Kara McCullough 's healthcare response is asinine at least https://t.co/DTdVQa1mU9

— Bazaar Daily News (@bazaardailyuk) May 16, 2017
https://twitter.com/TanishaAlicea/status/864280802359734272
Watch McCullough's comments below.
https://www.youtube.com/watch?v=Fn6k_IPisdI