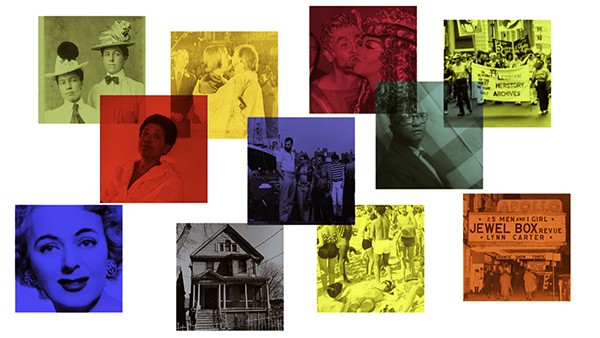 The NYC LGBT Historic Sites Project has produced an interactive map featuring their work to exhaustively identify and document sites in New York City pivotal to LGBT history. The project's founders, Andrew Dolkart, Ken Lustbader, and Jay Shockley, have spent 25 years in research and advocacy and sought to contextualize events and places that had an impact on LGBT lives and progress.
Including sites such as Christine Jorgensen's childhood home to Julio Rivera Corner to pre-Stonewall activist gathering spaces, the Project officially began in August 2015 and actively seeks input from members of the community for suggestions and feedback. They described their mission to local NYC site DNAInfo:
Of the 92,000 sites on the National Register of Historic Places, about a dozen are listed for their association with LGBT history.
The historic sites project hopes to change that.
The project, which was established in 2014, recently launched an interactive map featuring 100 sites organized by type of space, including bars, residences, medical facilities, performance venues, community spaces and more.
There are many challenges when it comes to sifting through records related to LGBT history, explained Ken Lustbader, who directs the project with Columbia professors of architectural history Andrew Dolkart and retired historian from the NYC Landmarks Preservation Commission Jay Shockley.
"We're talking about LGBT history, which is often covert, hidden, transitory, dismissed," said Lustbader, who started mapping out significant LGBT sites for a project for his Columbia thesis nearly 25 years ago.
The Project's website also highlights the present-day importance and current relevance of recalling this history:
We hope that our website inspires the LGBT community and youth, who are often not taught this history, in particular. Now more than ever it is important to raise public awareness about the community's contributions to American history as well as the struggles it has faced in achieving acceptance and equality under the law.
Our project encourages you to take a second look at the physical places you walk past every day and to appreciate a history that, until our initiative, has largely been invisible.
The Project has put together an explainer video, which you can watch below:
[vimeo 201351973 w=480 h=270]