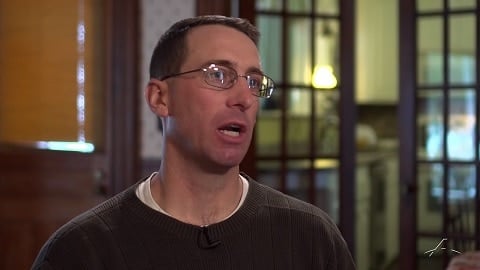 A Michigan man says he was banned from an outdoor farmer's market after he refused to allow gay couples to get married on his property.
Represented by anti-gay litigation group Alliance Defending Freedom [ADF], apple grower Stephen Tennes filed a lawsuit against the city of East Lansing on Wednesday. According to the city, Tennes was not invited back to the farmer's market because vendors must follow a civil rights ordinance banning discrimination.
However, Country Mill Farms owner Tennes says that the ordinance violates his rights to free speech and religion.
Fox Business reports:
Tennes' farm, 22 miles away from East Lansing in Eaton County, is a popular place to have weddings. In a Facebook post in December, he said he believes in heterosexual marriage and reserves the right to reject weddings that conflict with his beliefs.
"If the government can shut down a family farmer just because of the religious views he expresses on Facebook … then no American is free," said Tennes' [ADF] attorney, Kate Anderson.
East Lansing said in a statement that the farm is violating the city's "long-standing ordinance that protects sexual orientation" and can't sell fruit at the market.
In a statement, the City of Lansing said:
The Country Mill has been excluded from the East Lansing Farmer's Market because the East Lansing Farmer's Market policy requires that all vendors comply with the City's Civil Rights ordinances while at the market and as a general business practice.
Contrary to this policy and the constitutionally protected rights of all couples, The Country Mill has advertised that their business practice is to prohibit same-sex couples from holding weddings at their orchard in Charlotte, MI.
Their business practices violate the City of East Lansing's long-standing ordinance that protects sexual orientation as well as the Supreme Court's ruling that grants the right for same-sex couples to be married.
Tennes – who says he runs his business to "glorify god" – has said that he wants a judge to order East Lansing to allow him back at the market and to stop the city from extending policies to businesses outside the city.
Stephen Tennes doesn't want to serve everyone. In fact he violated East Lansing's civil rights ordinance by stating that he refuses LGBT biz

— Pablo Johnstone (@Ptotheftothej) June 1, 2017
"True tolerance," he said, "is a two way street. The government should not eradicate people of faith from the marketplace."
Watch ADF's report on the case below.