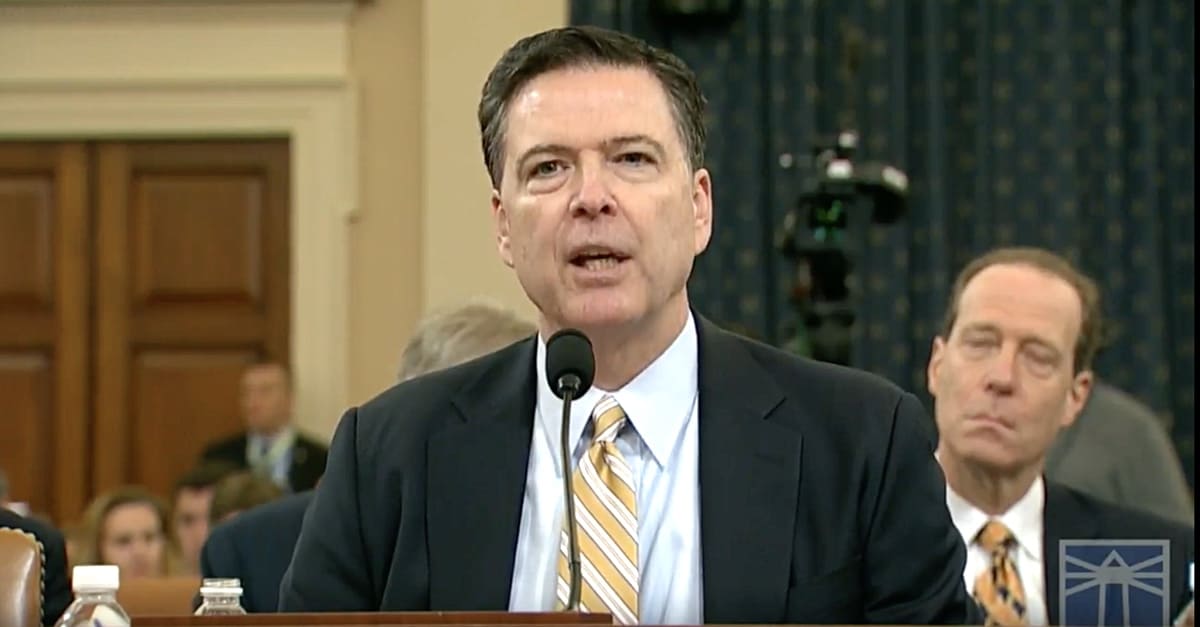 Former FBI Director James Comey will testify before the Senate on Thursday at 10 am in the most highly-anticipated hearing in recent memory and the bombshells are dropping right and left in the run-up to what could be an explosive session. Here are 7 stories that have broken in the past 24 hours.
OBSTRUCTION
Trump asked Director of National Intelligence Dan Coats and CIA Director Mike Pompeo to intervene in the Comey investigation and get him off Trump's back, according to the Washington Post:
After the encounter, Coats discussed the conversation with other officials and decided that intervening with Comey as Trump had suggested would be inappropriate, according to officials who spoke on condition of anonymity to discuss sensitive internal matters.
The events involving Coats show the president went further than just asking intelligence officials to deny publicly the existence of any evidence showing collusion during the 2016 election, as The Washington Post reported in May. The interaction with Coats indicates that Trump aimed to enlist top officials to have Comey curtail the bureau's probe…
PROTECTION
Also, Comey asked Attorney General Jeff Sessions to not leave him alone in the same room with Trump, the New York Times reports:
The day after President Trump asked James B. Comey, the F.B.I. director, to end an investigation into his former national security adviser, Mr. Comey confronted Attorney General Jeff Sessions and said he did not want to be left alone again with the president, according to current and former law enforcement officials.
Mr. Comey believed Mr. Sessions should protect the F.B.I. from White House influence, the officials said, and pulled him aside after a meeting in February to tell him that private interactions between the F.B.I. director and the president were inappropriate. But Mr. Sessions could not guarantee that the president would not try to talk to Mr. Comey alone again, the officials said.
Mr. Comey did not reveal, however, what had so unnerved him about his Oval Office meeting with the president: Mr. Trump's request that the F.B.I. director end the investigation into the former national security adviser, Michael T. Flynn, who had just been fired. By the time Mr. Trump fired Mr. Comey last month, Mr. Comey had disclosed the meeting to a few of his closest advisers but nobody at the Justice Department, according to the officials, who did not want to be identified discussing Mr. Comey's interactions with Mr. Trump and Mr. Sessions.
FURY
Trump has been infuriated with Sessions since he recused himself from the Russia investigation in March, and Sessions offered his resignation to Trump before the president's international tour, Politico reported:
Trump ultimately refused Sessions' offer, which came just before Trump embarked on his first international trip in late May, according to a person who regularly speaks with Sessions. This person said the attorney general offered to resign out of a sense of obligation because he was aware of how angered Trump was about his decision to recuse from the Russia investigations in March.
White House spokeswoman Sarah Huckabee Sanders did not respond to a request for comment about Sessions' resignation offer. Justice Department spokeswoman Sarah Isgur Flores declined to comment.
REACTION
Trump wants to engage and plans on live-tweeting the Comey hearing, The WaPo reports:
Trump is keen to be a participant rather than just another viewer, two senior White House officials said, including the possibility of taking to Twitter to offer acerbic commentary during the hearing.
"I wish him luck," the president told reporters on Tuesday.
"He's infuriated at a deep-gut, personal level that the elite media has tolerated [the Russia story] and praised Comey," former House speaker Newt Gingrich said. "He's not going to let some guy like that smear him without punching him as hard as he can."
This account of Trump's mind-set and the preparations of his team in the run-up to Comey's testimony is based on interviews with 20 White House officials, Trump friends and other well-connected Republicans, many of whom spoke only on the condition of anonymity to offer candid perspectives.
Trump's aides and attorneys have urged him to not engage, but it's unlikely Trump will listen.
SURPRISES
Comey's testimony is unlikely to surprise Robert Mueller, the special counsel assigned in the case, as Comey has been in contact with Mueller, Politico reports:
Friends of Comey say they expect the testimony before the Senate Intelligence Committee to largely stick to his conversations with President Donald Trump and is unlikely to break ground on the investigation into potential collusion between Russia and any of Trump's associates. That is not surprising, legal experts say, because of the ongoing investigation that Mueller took over last month.
These people say Comey is trying to be careful "to just describe what happened with the president and how he felt about it," in the words of one associate. But this person said Comey "wants to correct the record, from his point of view, on certain things the president and his aides have said."
CREDIBILITY
The White House has been looking for ways to undermine Comey's credibility, according to the AP:
Trump's White House and its allies are crafting a strategy aimed at undermining Comey's credibility. Both White House officials and an outside group that backs Trump plan to hammer Comey in the coming days for misstatements he made about Democrat Hillary Clinton's emails during his last appearance on Capitol Hill.
An ad created by the pro-Trump Great America Alliance — a nonprofit "issues" group that isn't required to disclose its donors — casts Comey as a "showboat" who was "consumed with election meddling" instead of focusing on combating terrorism. The 30-second spot is slated to run digitally on Wednesday and appear the next day on CNN and Fox News.
The Republican National Committee has been preparing talking points ahead of the hearing, which will be aired live on multiple TV outlets. An RNC research email Monday issued a challenge to the lawmakers who will question Comey. There's bipartisan agreement, the email says, that Comey "needs to answer a simple question about his conversations with President Trump: If you were so concerned, why didn't you act on it or notify Congress?"
WHAT AMERICA THINKS
A new ABC News.Washington Post poll finds that 61 percent of Americans believe that Trump fired Comey to protect himself.
Sixty-one percent say he ditched the director to protect himself; just 27 percent think he did it for the good of the nation.
Fifty-six percent also think Trump is trying to interfere with investigations into possible Russian interference in the election, while just a third think he's cooperating. And 72 percent report just some or no trust in what Trump says about the issue – half, none at all. Just 21 percent report a great deal or good amount of trust in what the president says about it.
Even conservatives are about twice as apt to have low trust in what Trump says about Russian interference than to have substantial trust, 60-33 percent. And in the president's own party, Republicans split evenly on the question of trust, 48 percent expressing distrust, 45 percent, trust.