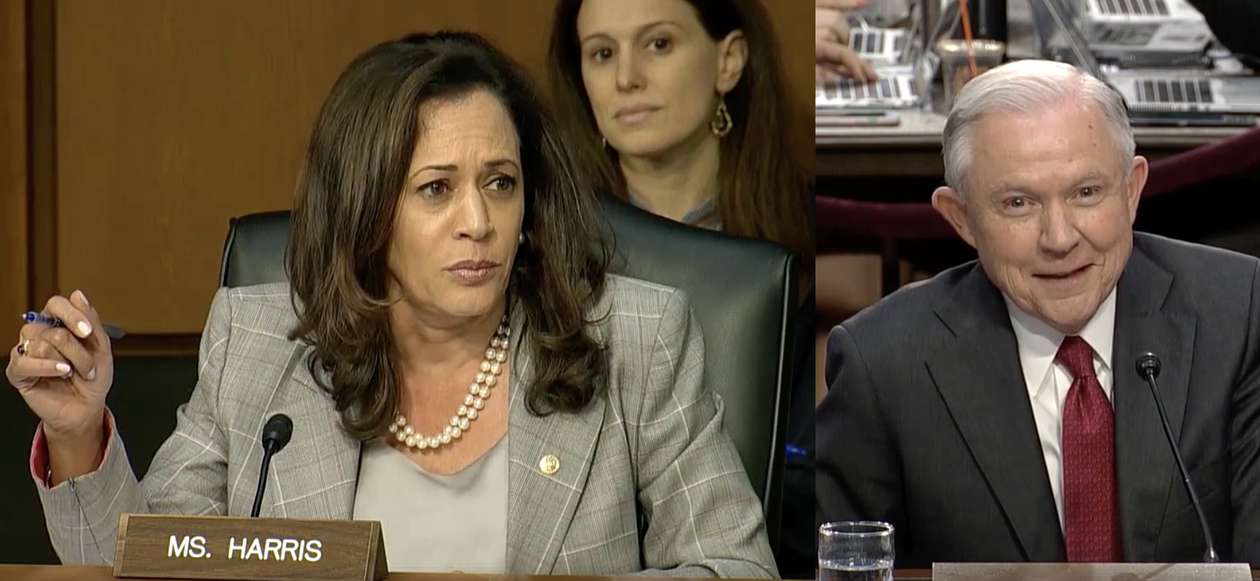 In another moment from Attorney General Jeff Sessions' testimony before the Senate Intel Committee today, Senator Kamala Harris was shut down while trying to get an answer out of Sessions on refusing to answer questions without invoking executive privilege. It was the second time in a week Harris had been shut down by the Republican senators.
Last week, she was trying to get a "yes or no" answer from Rosenstein on whether he'd reinstate a Bush-era special prosecutor policy that would ensure that President Trump couldn't fire special counsel Robert Mueller. Rosenstein repeatedly refused to answer "yes or no," and when Harris pressed him that is when her fellow senators shut her up.
In this hearing, she asked Sessions what was his legal basis for refusing to answer questions about his communications with President Trump. Sessions had essentially been refusing to assert executive privilege—which could be challenged in court and knocked down—citing a "longstanding DOJ policy" for his decision. Harris asked him straight up: What is that policy and did you actually look at it? Again, the witness filibustered and again the questioner was repeatedly interrupted.
As Sessions chuckled at the commotion, Chairman Richard Burr (R-N.C.) said he would run his own committee but instructed Harris to allow Sessions to answer.
Sessions then gave a winding answer that exhausted the rest of Harris's time, and he did not answer whether he had seen a written rule.
It was a simple question. Can Sessions point to the policy, in writing, that allows him to not answer a whole host of our questions today.

— Kamala Harris (@KamalaHarris) June 13, 2017
Watch:
https://www.facebook.com/latimes/videos/10155524341543010/