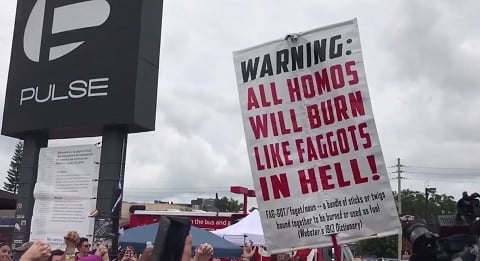 A protester with a sign reading "All homos will burn like faggots in hell" was arrested at the Orlando Pulse nightclub memorial yesterday.
Mourners had gathered to commemorate the one year anniversary of the massacre in which 49 people died.
BREAKING: One protester handcuffed after showing up at #pulse. People attending ceremony cheer as he is placed in opd car. @WESH pic.twitter.com/cTrcMRlRLV

— Greg Fox (@GregFoxWESH) June 12, 2017
According to Raw Story, the unidentified man was one of three protesters holding signs with anti-gay slogans.
ABC reports that the crowds chanted, "Love conquers hate," as the man was placed in handcuffs.
Police have not specified why they handcuffed the man.
https://twitter.com/MLopardiWFTV/status/874309529231667200?ref_src=twsrc%5Etfw&ref_url=http%3A%2F%2Fwww.joemygod.com%2F2017%2F06%2F12%2Fchristian-activist-arrested-pulse-memorial-video%2F
Protester showed up to condemn #LGBQT community. #Pulse response: "love conquers hate." #Orlando pic.twitter.com/j4jPzA0TyZ

— J. E. Ferrell (@jordaneferrell) June 12, 2017
https://twitter.com/MLopardiWFTV/status/874308448971870210?ref_src=twsrc%5Etfw&ref_url=http%3A%2F%2Fwww.joemygod.com%2F2017%2F06%2F12%2Fchristian-activist-arrested-pulse-memorial-video%2F