In this exclusive TowleREAD excerpt, Anne-christine d'Adesky, veteran social justice activist, co-founder of The Lesbian Avengers and filmmaker, reads from her new hybrid memoir The Pox Lover: An Activist's Decade in New York and Paris (University of Wisconsin Press).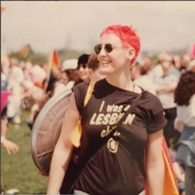 In The Pox Lover, d'Adesky recalls life in 1990s Manhattan's East Village, through squatter clashes with police to all-night drag parties, reliving the joyous and sexy anarchy of the fire-eating Lesbian Avengers and the intensity of ACT UP's public funerals. Traveling as a journalist to Paris, an insomniac d'Adesky trolls the Seine, encountering waves of exiles fleeing violence in the Balkans, Haiti, and Rwanda and implicates her own bloodline in this history, mercilessly digging into her aristocratic family's roots in Vichy France and colonial Haiti. She also predicts the rise of far-right populism and extreme nationalism now dominating the political scene.
Listen:
[soundcloud url="https://api.soundcloud.com/tracks/326892270?secret_token=s-r31jm" params="auto_play=false&hide_related=false&show_comments=true&show_user=true&show_reposts=false&visual=true" width="100%" height="450″ iframe="true" /]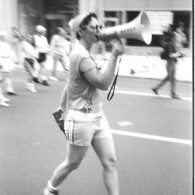 D'Adesky has launched a multi-city national tour to support the book, titled "In Bed with the Pox Lover". These events will feature public conversations with elected officials, political pundits, noted authors and fellow activists exploring the common ground shared by 80's-90's LGBT and AIDS activists with the current generation of anti-Trump Refuse + Resist protestors.
A June 23 event in New York City. "Bodies on the Line: AIDS Journalists Memorial Event" will honor journalists who both covered the early days of the epidemic and those who died of AIDS. Keynote speaker Samuel G. Freedman, a New York Times columnist and author, will discuss today's challenges in covering HIV/AIDS. It takes place at New York City's LGBT Community Center, 208 West 13th Street, from 12 noon until 2:00 PM. The free event is open to the public and supported by the Elton John AIDS Foundation.
Click HERE for more info about The Pox Lover and the summer tour, and to order the book, click HERE.