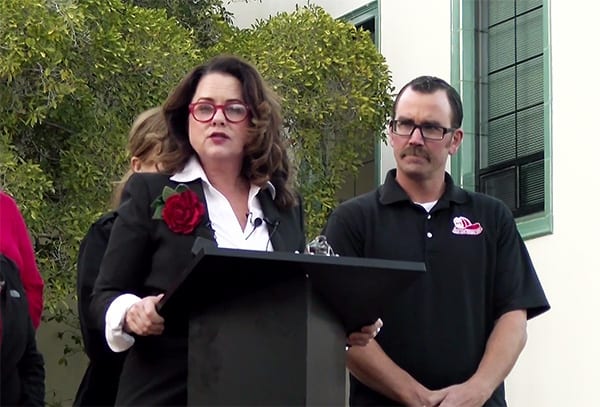 San Luis Obispo mayor Heidi Harmon reported that the pride flag she had hung in front of her home had been discovered burned overnight Thursday.
In remarks she gave on Friday, Harmon explained the circumstances, according to local newspaper The Tribune:
"When I left my home in the morning, I saw something right in front of my house," Harmon said in an interview Friday. "Someone had taken my rainbow flag and burned it."
In addition to the flag, a yard sign containing what Harmon said was a "super positive" message was cut up, possibly with a knife, she said.
San Luis Obispo Police Chief Deanna Cantrell said the incident is being investigated as a possible hate crime, and it will be reported to the U.S. Department of Justice as required by law.
Harmon said she didn't want to overreact but that it's important to take incidents like this seriously.
"This is not that dissimilar to burning a cross on someone's yard," Harmon said. She said somebody went to the effort to "meticulously burn a symbol of civil rights."
The disturbing incident led Harmon to cancel a press conference in which she intended to clarify the California city's response against the Trump administration's move to withdraw from the Paris climate agreement. She also said it came in the wake of her city's recent ordinance declaring itself "a welcoming and inclusive city."