Dining in Las Vegas is a vacation within your vacation. You can just about go around the world in dining – from fine French bistros to impeccable Italian restaurants to alluring Asian eateries. The seductive scents of a searing starter, passionately crafted cocktails and undoubtable flavors packed into every entrée lure foodies from near and far. However, the experience doesn't stop at the table.
It's all about the atmosphere. It's what you see, feel and hear that turns eating into an experience, and food into cuisine. If you want to immersive yourself in Vegas dining, start on the patio.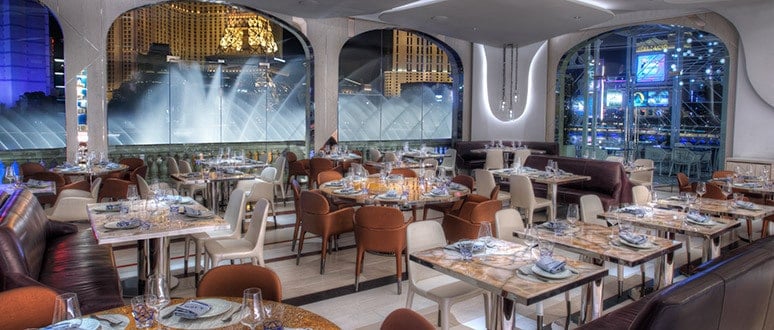 For a high-end, all-around classy affair, Lago by Julian Serrano at Bellagio should be on your list. Upon walking in, you are greeted by a mosaic map of Milan, an introduction to Lago's Italian futurism-inspired interiors. This art movement, highlighting the excitement and momentum of the machine age, sets the pace for the quickly disappearing, sharable small plates. Dine on the patio to enjoy your tasty pizzettes, focaccia and crostini with a perfect view of the Fountains of Bellagio.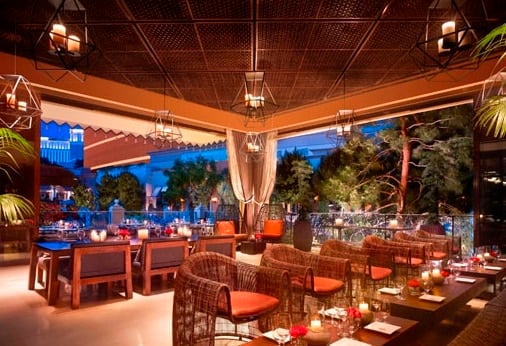 "In Vino Veritas." Or, "In wine, there is truth" as La Cave – Wine & Food Hideaway at Wynn Las Vegas reminds us upon entering this wine cellar-inspired eatery. There must be an abundance of truth because there is an incredible selection of wine. The dim lighting and quiet nooks draw you in to this rustic and cozy space. Settle in and select a wine to try with one of chef DeMarco's sea, farm, grill or garden dishes. The open-air patio pairs well with the hideaway, giving you an exclusive view of Wynn. Enjoy waterfalls and gardens while you sip a full-bodied elixir and rave over the savory charcuterie tray.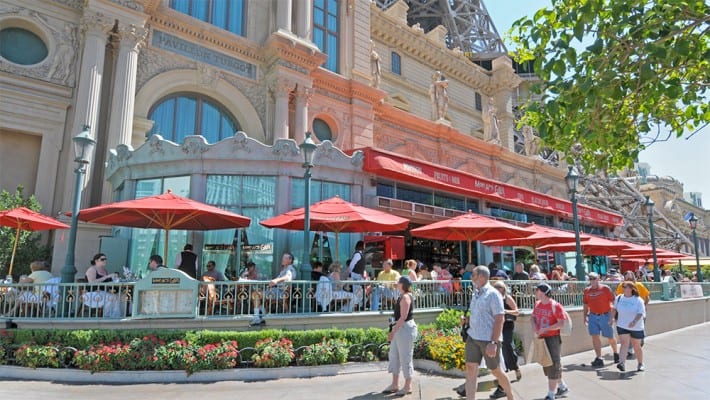 Mon Ami Gabi at Paris Las Vegas is arguably the best spot to for food, wine and culture. This classic French bistro is the vision of chef and owner Gabino Sotelino. His notable steak frites, vegetable tagine, salmon and filet mignon can be enjoyed on its exclusive Strip-side patio, with a clear view of the Bellagio fountains and its awestruck audience. Even gluten-free patrons can indulge in Mon Ami Gabi's baked goods' selection for breakfast, lunch, dinner and especially, dessert. Everyone can bite into a fresh pastry while rejuvenating in the fresh air.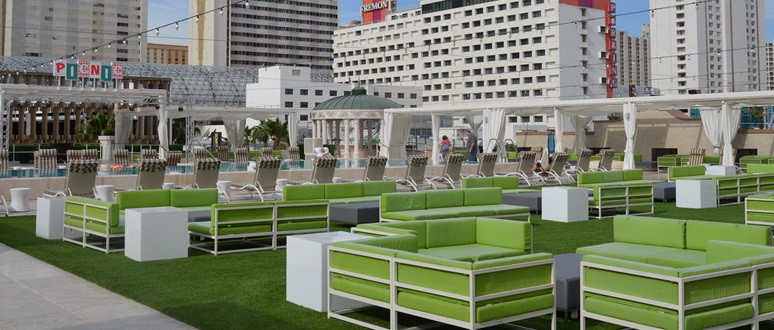 If we're talking patios, we can't overlook the newly renovated, 35,000-square-foot Citrus Grand Pool at Downtown Grand Casino and Hotel. If it's not the pool and cabanas that make this place a summertime favorite, it's the views, outdoor games and hyperlocal organic food grown. And we mean local. The ingredients are literally grown poolside in one of its 12 organic herb gardens. Its restaurant, Citrus at the Grand Pool, offers grilled dishes, light fare and sweet treats to those looking to spend the day, or just a meal, in the sun.
Chances are, you'll be pleasantly surprised anywhere you dine in Vegas. But this season, we recommend spending mealtime outside on the patio.