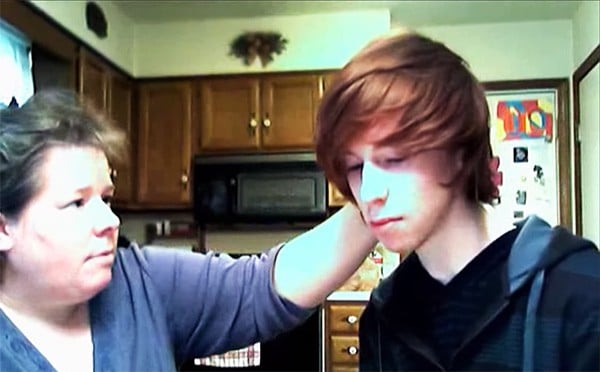 When Matthew came out to his mother Robin six years ago, he surreptitiously recorded the event and when he went public with the video two years ago, it rapidly went viral. Now Matthew and his mother have opened up about the experience and its aftermath.
Matthew explained his decision to record his personal coming out at the age of 19 to The Huffington Post:
"When I was in the process of coming out, I felt alone and very unsure of what to expect," Matthew told HuffPost.
"I turned to coming out stories on YouTube and in sitcoms to give me a better idea of what I might be able to expect with my own experience. Hearing other people's stories and seeing the reactions they received helped give me the confidence to come out myself.
I recorded my coming out story because I wanted to give others the confidence to come out as well. It's also just nice knowing that there are other people who have gone through similar situations."
In the video published to his YouTube channel two years ago and recently shared again with millions of views on Facebook, Matthew explains why he decided to share the video and how he built up the courage to come out, even though he admits he only wrote his affirmation on a piece of paper because it seemed easier than saying the words.
His mother, who is seen in the video immediately soothing her son and telling him she loved him no matter what, would like other parents to be able to deal with situation similarly:
His mother Robin hopes the video helps other parents learn how to respond to their own children when they come out: with love and compassion.
"Although it may or may not come as a surprise, and it may be a lot to take in all at once, your child is still the same person they were before they told you, and it doesn't change your love for them," she told HuffPost. "You may not totally understand it all, and it might even take a while for everything to fall into place, but everything will be okay. You will still love them as always."
Watch the original video below:
[youtube https://www.youtube.com/watch?v=vHXbgB0w47Q]