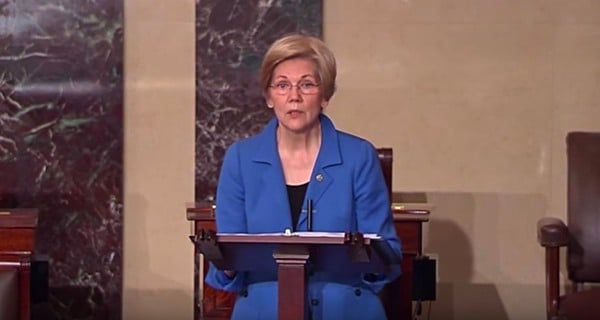 Senator Elizabeth Warren (D-MA) is the lead sponsor of a bill that would give married gay couples a refund on back taxes if they were married three years before SCOTUS struck down the Defense of Marriage Act (DOMA).
Writes Chris Johnson at the Washington Blade:
The legislation, called the Refund Equality Act, would same-sex couples married in places like Massachusetts, which had marriage equality before the Supreme Court decision in the Obergefell case, could file amended tax returns back to the date of their marriage…
…Additionally, same-sex couples could file an amended return if they feel they would've receive a refund in one or more prior tax years for up to three years in the past: 2010, 2011, and 2012. Under some circumstances, such as signing an agreement with the Internal Revenue Service to keep the statute of limitations open, these couple might have been able to seek a refund from an earlier time.
The Refund Equality Act would extend the window period for a refund further back in time. Same-sex couples could file a joint return to seek a refund dating to the time of their marriage, which in Massachusetts could be as early as 2004.
Same-sex couples who wed in jurisdictions with marriage equality more than three years before the DOMA decision — Massachusetts, Connecticut, California, Iowa, New Hampshire, Vermont, and D.C. — could be eligible for a refund under the Refund Equality Act.
According to Warren's office, an estimated $67 million in refunds could be available to married same-sex couples if the legislation becomes law.
Said Warren in a statement: "This bill is a simple fix to allow same-sex couples to claim the tax refunds they earned but were denied because of who they love."