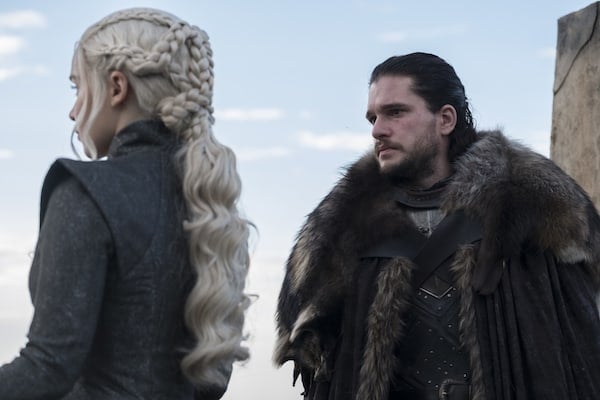 Check out our weekly guide to TV this week, and make sure you're catching the big premieres, crucial episodes and the stuff you won't admit you watch when no one's looking.
The summer TV doldrums make way for some of the most wildly ambitious, strange and quirky shows. Among them is Viceland's new series What Would Diplo Do? following the exploits of a fictionalized version of the real-life DJ Diplo played by James Van Der Beek. The DJ is allegedly totally OK with Van Der Beek's caricature, and we're totally OK with Van Der Beek re-enacting Diplo's shirtless puppy pile from Charli XCX's "Boys" video. Catch the premiere Thursday at 10 p.m.
The beloved cult comedy talk/variety show The Chris Gethard Show is back, now on TruTV. Gethard and his lovable cohort of misfits return for a new season Thursday at 11 p.m. Eastern. It's must-see TV for anyone interested in the stars of alt-comedy.
If you thought What Would Diplo Do? sounded high-concept, get ready for Comrade Detective. Movie hunks Channing Tatum and Joseph Gordon-Levitt dub over the voices of two cops in a 1980s Romanian cop drama. Part Cold War satire, part Law & Order procedural, the new Amazon series is unique if nothing else. All episodes drop Friday.
https://www.youtube.com/watch?v=x6lo3v-IcPE
While you're feeling nostalgic, check back in with your favorite happy campers in Wet Hot American Summer: Ten Years Later. Fulfilling the promise they made at the end of the original Wet Hot, the star-studded cast (Amy Poehler! Christopher Meloni! Elizabeth Banks! Paul Rudd!) return to see what the '90s holds. New episodes hit Netflix Friday.
Beloved characters are dropping like flies on this season of Game of Thrones. As we speed along past this season's halfway point Sunday at 9 p.m. Eastern on HBO, there's no telling who will be safe (and who will form uneasy alliances). What we do know is Daenerys needs some friends, and fast.
What are you watching this week on TV?