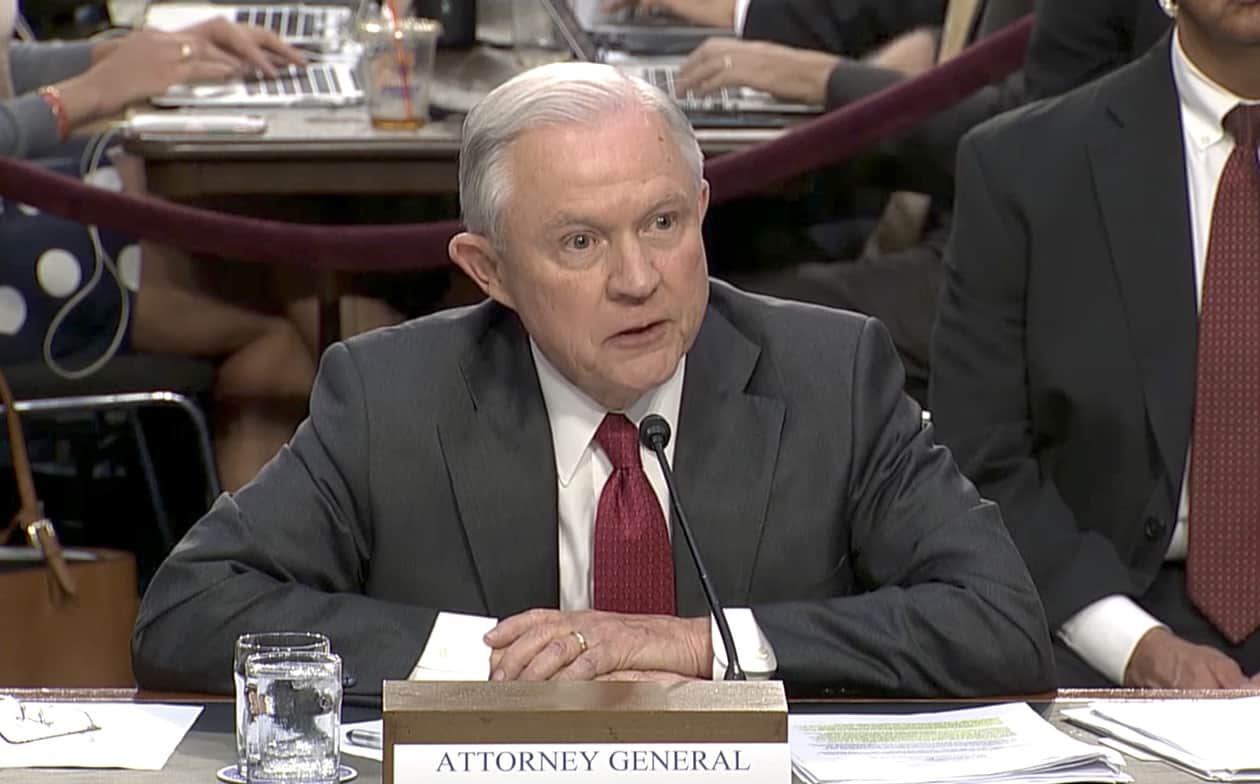 Attorney General Jeff Sessions gave a speech this week to Alliance Defending Freedom, a SPLC-designated anti-LGBTQ hate group that is representing the anti-gay baker at the center of Masterpiece Cakeshop vs. Colorado, the religious freedom case before the U.S. Supreme Court.
The Department of Justice refused to release Sessions's remarks, prompting the website Right Wing Watch to file a Freedom of Information Act request for the remarks.
However, last night, a transcript of Sessions's remarks appeared on the right-wing site The Federalist, and they reveal that Sessions told the group that new "religious freedom" guidance would be forthcoming from the DOJ.
In all of this litigation and debate, this Department of Justice will never allow this secular government of ours to demand that sincere religious beliefs be abandoned. We will not require American citizens to give intellectual assent to doctrines that are contrary to their religious beliefs. And they must be allowed to exercise those beliefs as the First Amendment guarantees.
We will defend freedom of conscience resolutely. That is inalienable. That is our heritage.
Since he was elected, President Trump has been an unwavering defender of religious liberty. He has promised that under a Trump Administration, "the federal government will never, ever penalize any person for their protected religious beliefs." And he is fulfilling that promise. First, President Trump appointed an outstanding Supreme Court justice with a track record of applying the law as written, Neil Gorsuch. I have confidence that he will be faithful to the full meaning of the First Amendment and protect the rights of all Americans.
The president has also directed me to issue guidance on how to apply federal religious liberty protections. The department is finalizing this guidance, and I will soon issue it.
The guidance will also help agencies follow the Religious Freedom Restoration Act. Congress enacted RFRA so that, if the federal government imposes a burden on somebody's religious practice, it had better have a compelling reason. That is a demanding standard, and it's the law of the land. We will follow it just as faithfully as we follow every other federal law. If we're going to ensure that religious liberty is adequately protected and our country remains free, then we must ensure that RFRA is followed.
Under this administration, religious Americans will be treated neither as an afterthought nor as a problem to be managed. The federal government will actively find ways to accommodate people of all faiths. The protections enshrined in the Constitution and our laws protect all Americans, including when we work together, speak in the public square, and when we interact with our government. We don't waive our constitutional rights when we participate fully in public life and civic society.
This administration, and the upcoming guidance, will be animated by that same American view that has led us for 241 years: that every American has a right to believe, worship, and exercise their faith in the public square. It has served this country well, and it has made us not only one of the tolerant countries in the world, it has also helped make us the freeist and most generous. Thank you.
The Justice Department confirmed in an email to NBC News that the transcript was legitimate. ADF did not respond to multiple requests for comment delivered on Wednesday and Thursday…
…The Justice Department would not comment on the impending guidance…
…But after reading the transcript and learning of the Justice Department's plans to create a new federal policy on protecting religious liberties and doubling down on enforcing the Religious Freedom Restoration Act, advocates suggested Sessions was more interested in protecting the right to discriminate than the freedom of religion.
"Here he goes again. It appears [what] the Attorney General is saying is that he will only enforce a 'civil rights' law that is meant as an excuse to discriminate; but he won't enforce longstanding, real civil rights laws like Title IX, Title IX and Section 1557 of the Affordable Care Act," Mara Keisling, executive director of the National Center for Transgender Equality, said in an email sent to NBC News.