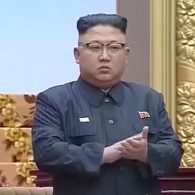 NORTH KOREA. Trump warns N. Korea of "pretty severe" consequences: "Trump did not specify potential U.S.-directed punishment for North Korea, which on Tuesday launched a missile that experts say had a range capable of reaching Alaska. Yet efforts to find consensus among world powers appeared to hit a wall — sharply limiting Trump's options."
CNN VS TRUMP. Jeff Zucker holds conference call with employees: "My job is to remind everyone that they need to stay focused doing their job," Mr. Zucker said on Wednesday, brushing off any suggestion that he was rattled. He added: "He's trying to bully us, and we're not going to let him intimidate us. You can't lose your confidence and let that change the way you conduct yourselves."
PAY EQUALITY. Daniel Dae Kim and Grace Park quit Hawaii-Five-0.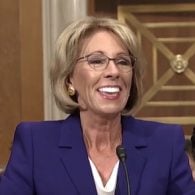 BETSY DEVOS. 19 Democratic state attorneys sue Education Secretary: "The complaint, filed in U.S. District Court, alleges that the Department of Education violated federal law by abruptly rolling back its Borrower Defense to Repayment rule, which was designed to hold abusive higher education institutions accountable for cheating students and taxpayers out of billions of dollars in federal loans. The Obama-era rule, finalized in November 2016, was meant to better protect student borrowers against misleading and predatory practices by creating consistent, clear, fair and transparent processes to file claims."
'ILLEGAL ALIENS'. They lost Trump the popular vote, says wingnut Michael Savage: "The left says, 'Well he lost in the popular vote.' I disagree 100%. Cause if you do count out the illegal aliens who vote over and over again in our country you'll find out Trump actually won the popular vote as well."
SHOPPING FOR SHOPPING. QVC to buy Home Shopping Network.
GAYS FOR TRUMP FAIL. 18 attend rally on National Mall: "Boykin and several others who spoke at the rally said they were certain that each of those attending the event represents thousands of others, both gay and straight, who are conservative, loyal Americans that deeply believe Donald Trump will provide the leadership needed to get the nation back on track."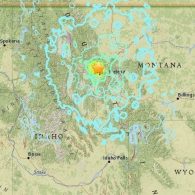 MONTANA. 5.8 earthquake felt for hundreds of miles. "An earthquake with a magnitude of 5.8 startled many people out of their sleep in western Montana early Thursday. The shallow quake was felt for hundreds of miles from its epicenter southeast of Lincoln, including in parts of neighboring states and in Canada."
DOG DAYS. Puppies trying to stay awake.
PETER TATCHELL. London Pride needs liberating: "The admirable organisers, Pride in London, are being forced to operate with onerous controls and draconian costs. These have been imposed by the mayor of London, Westminster council and the Metropolitan police, whose conditions mean a mere 26,500 people will be permitted to march. This is a fraction of the number who would march if it were a free and open event."
KATY PERRY. She pissed off Australian koala activists with an ad for her tour, telling her dog, "Let's go and chase some koalas, Nugget!"
https://www.youtube.com/watch?time_continue=30&v=eXCHBhzlAYA
SNS. Demi Lovato is teasing a new summer anthem.
NEW TUNE OF THE DAY. Zedd and Liam Payne "Get Low".
THIRSTY THURSDAY. Pierre Abena.