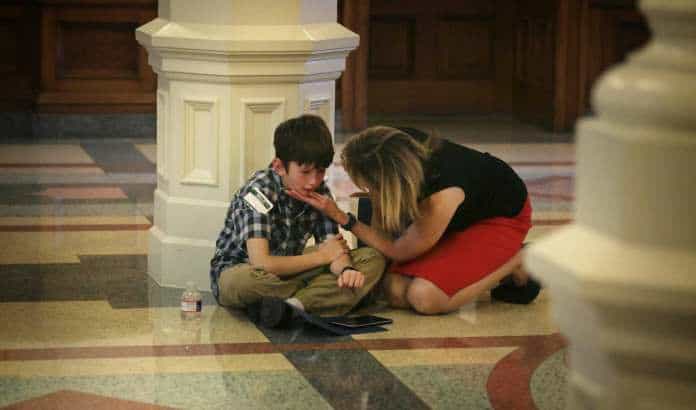 A photo of Amber Briggle's 9-year-old son Max crying outside Governor Greg Abbott's office is going viral as the Texas legislature advances a hideous anti-trans bathroom bill.
Writes Freedom for All Americans:
The Texas Senate voted to advance SB 3, legislation that bans transgender people from using public restrooms and eradicates existing municipal nondiscrimination measures that protect transgender people from discrimination. The legislation is one of 20 items that Governor Greg Abbott has demanded lawmakers consider during a costly 30-day special legislative session, and is similar in scope to a discriminatory bill that failed to gain traction in the Texas House earlier this year.
The Senate advanced the discriminatory bill at the same time as leading law enforcement officials from across the state also gathered at the Capitol to express their strong opposition to the legislation. Law enforcement officials from Austin, Houston, Dallas, and San Antonio joined sexual assault survivors to ask lawmakers not to pass the legislation, calling it a solution in search of a problem that would siphon off resources from real public safety issues.
Wrote Briggle in a post on Facebook: "This is my transgender son in TEARS outside the Office of the Governor Greg Abbott . Can I just admit for a second how effing tired I am of having to comfort my baby and protect him from bullies in Austin? Let me just be real for a second. This sucks so hard. He deserves a summer vacation with his friends, not a political pissing contest with the Texas Legislature. Not fair. I'm mad as hell."
"Is this really the legacy you want? Look ― North Carolina passed a bathroom bill. North Carolina voted for Trump. North Carolina had an incumbent Republican governor who LOST his seat to a Democrat in November. Are you SURE you want to play this game, especially when you're responsible for making little boys like Max cry? The NFL, NBA, and Boy Scouts are all welcoming to transgender boys ― so what's taking you so long to figure this out?"