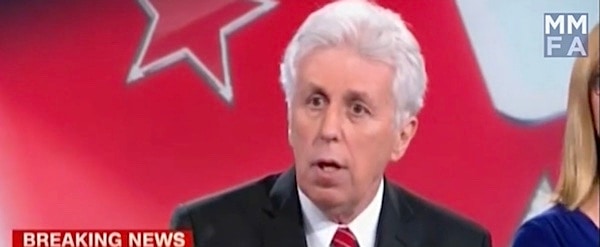 CNN has fired Trump spokesbot Jeffrey Lord after he tweeted "Sieg Heil" at Angelo Carusone, the president of liberal media watchdog Media Matters, the network said:
"Nazi salutes are indefensible," a CNN spokesperson said in a statement. "Jeffrey Lord is no longer with the network."
Lord was not immediately reachable for comment. Earlier in the day, he defended his tweet by saying he was "mocking a fascist."
Lord, a former Reagan administration staffer, had been one of CNN's best-known commentators. He was the first explicitly pro-Donald Trump commentator to join the network, back in August 2015, two months after Trump entered the GOP primary race. At the time Lord was a counterweight to CNN's other conservative commentators, who were all dismissive of Trump's candidacy.
Other pro-Trump voices joined the network later. CNN now has about a dozen commentators who tend to support the president's views.
Lord and Carusone have reportedly been feuding all week with Lord calling Carusone's group the "Media Matters Fascists.
Lord said Carusone was playing a "fascist game" by targeting Hannity's sponsors, and said Media Matters has been doing it for years against other conservatives.
"This is America, Angelo. Not Fascist Italy, Nazi Germany or Communist Russia," he wrote.
Lord tweeted the column at Carusone, who responded, "Your headline has a mistake in it." Carusone asked, "Why do you expect anyone to take you seriously when you don't take yourself seriously."
Lord's response was "Sieg Heil!"
Sieg Heil!

— Jeffrey Lord (@realJeffreyLord) August 10, 2017