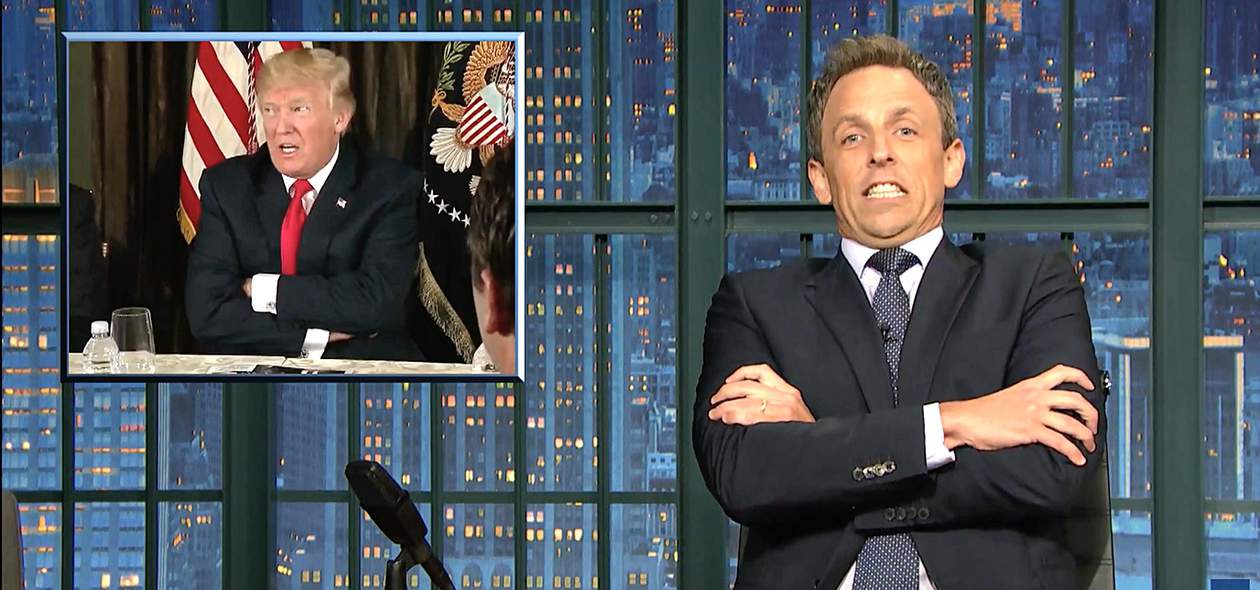 Seth Meyers took 'A Closer Look' at Donald Trump's doubling down of his "fire and fury" comments toward North Korea.
First, Meyers looked at Trump's original remarks, made at a meeting on the opioid crisis. "Even Trump is scared by what he's saying. Look at him. He's literally hugging himself.
And in his double down, Meyers mocked Trump's statement that his remarks "weren't tough enough."
"Not tough enough?" asked Meyers. "What would be tougher than fire and fury? Fire and Fury and bees? 2 Fire 2 Furious?"
Meyers then took a closer look at the opioid crisis meeting at which Trump told everyone of his plan to stop the opioid epidemic, which was, "talking to you, telling them 'no good, really bad for you in every way' but if they don't start it will never be a problem."
Quipped Meyers:
"You know, if you don't want people to start taking drugs, stop making them think the end of the world is imminent. (Trump voice) 'I will rain hellfire on my enemies until no man but me is left standing on the burning heap of what was once civilization. Also, say no to drugs, kids.'"
Meyers then went on to mock Trump spokesbot Sebastian Gorka, potential new White House Communications Director Stephen Miller, Trump's twice-daily 'propaganda document', and sympathized with John McCain's statement that he doesn't know what Trump is talking about and he long ago stopped trying to figure it out.
Watch:
https://www.youtube.com/watch?v=WAUDbW9ilDc