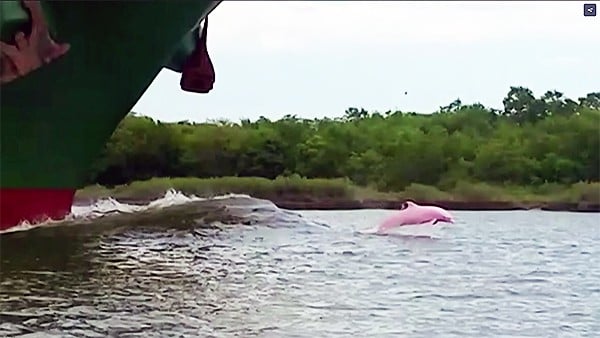 A local celebrity dolphin known as Pinky for her rare and exquisite shade of color is apparently in the pink and well these days, having been spotted recently in Louisiana accompanied by her young calf, who shares her hue.
She was first sighted as far back as 2007 and periodically thereafter. Marine biologists attribute her striking pink color to being an albino.
The sight of a dolphin swimming next to a boat is not uncommon — the Internet is home to thousands of examples captured on shaky, handheld video.
But if you're traveling down the Calcasieu Ship Channel, about 100 miles west of Lafayette, La., you might encounter a much rarer sight: an albino dolphin.
That's what happened to Bridget Boudreaux and her husband on Aug. 5. "I about fell out the boat," Boudreaux told the CBS affiliate in Houston, KHOU. "I was like, 'Wow, that's not a regular dolphin, that's a pink dolphin.'" [And just when you think it couldn't get any better, she says she actually saw two pink dolphins. Unfortunately, she was only able to get a video and picture of one.]
The dolphin in question is known to locals as Pinky, and it has been swimming the shipping channel since at least 2007, when a charter boat captain first reported spotting it.
Pinky's albinism is "exceptionally rare, but not unheard of," said Eric Hovland, associate curator at the Florida Aquarium in Tampa. "Since there's no pigment there, the only coloration comes from the blood vessels and the tissues."
Senior Rescue Biologist Kerry Sanchez of the Clearwater Aquarium also suggests that genetic variation may have lent Pinky her rose-colored lease on life.