A London man says his request to adopt a rescue cat was turned down because he's gay and it violated the owner's religious beliefs.
Alex Andreou posted a text exchange with the cat's owner who asked if Andreou is gay.
So, I just travelled two hours to adopt a cat that desperately needed rehoming and was turned down for being gay. WTF IS WRONG WITH PEOPLE. pic.twitter.com/XDwYELdkn7

— Alex Andreou (@sturdyAlex) August 22, 2017
"People normally mention grown up kids and so on thats why I thought you may be gay."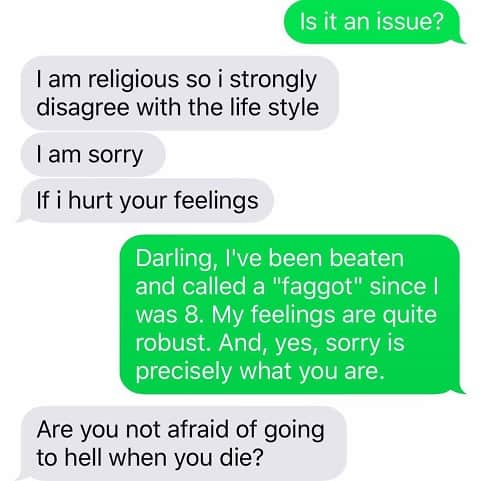 When Andreou confirmed the owner's query, the god-botherer wrote: "I am religious so I strongly disagree with the life style. I am sorry. If I hurt your feelings."
https://twitter.com/AlistairBarrie/status/900068720109867008
Andreou told the woman that he has been beaten can called a "faggot" since childhood, that his feelings are "quite robust" and that "sorry" is precisely what the woman is.
The woman then asked Andreou if he is not afraid of going to hell.
However, according to NZ Herald, he later admitted he sobbed the whole way home on the bus because "it hurts as much as when [he] was 8 years old".
Oh God please someone get the cat and then give it to Alex instead. Please. And then tell her.

— Stephanie Cox (@cox_stephanie) August 22, 2017
A few hours later, Andreou tweeted that a friend who lived in the area was going to pick up the cat for him.
(Images via Facebook)