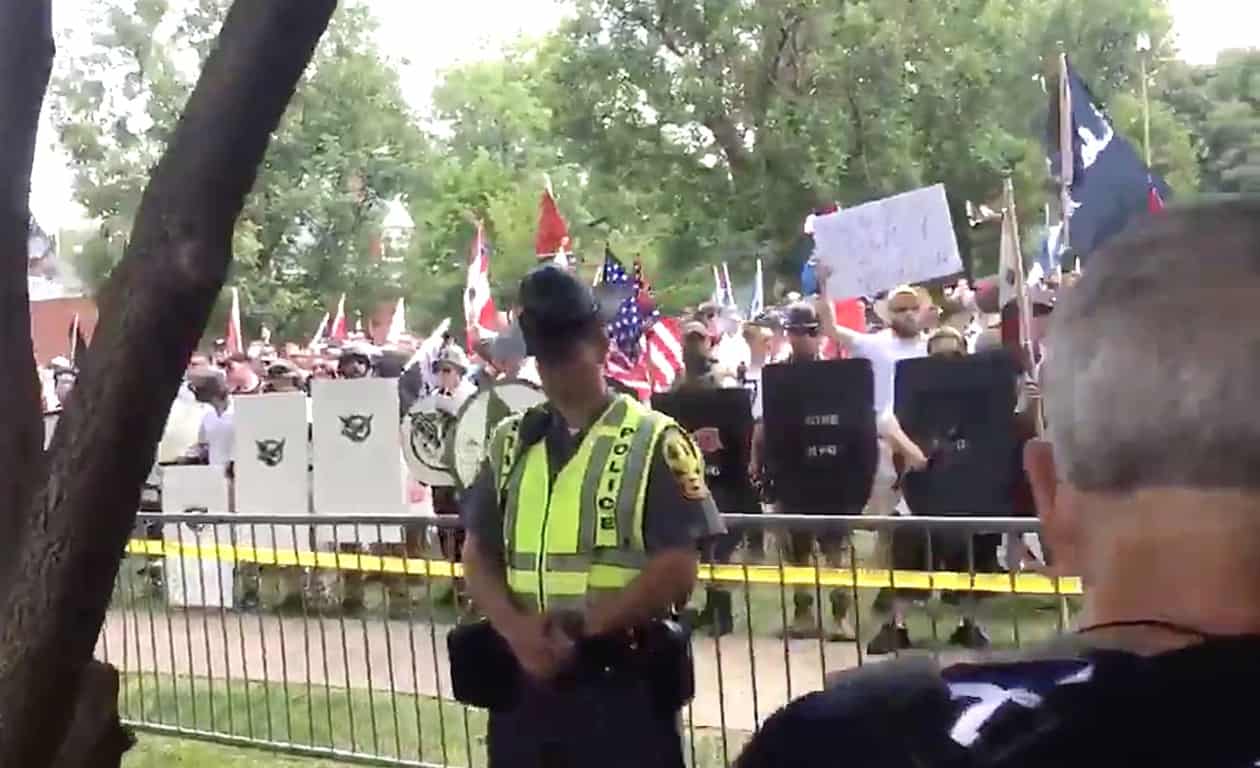 A protest centered around the removal of a Confederate statue turned violent on Saturday as racist, homophobic neo-Nazis, many supportive of Donald Trump, clashed with counterprotesters, the Washington Post reports:
Gov. Terry McAuliffe declared a state of emergency shortly before 11 a.m.
Using megaphones, police declared an unlawful assembly at about 11:40 a.m., and gave a five-minute warning to leave Emancipation Park, where hundreds of neoNazis, Ku Klux Klans members and other white nationalists had gathered to protest the removal of a Confederate statue. They were met by equal numbers of counterprotesters, including clergy, Black Lives Matter activists and Princeton professor Cornel West.
But fighting broke out way before the noon rally, starting Friday night and then again Saturday morning.
Trump has so far refused to denounce the rally.
Here's one ugly scene: the neo-Nazis chanting "f**k you faggots."
You heard that right. They're chanting "Fuck you faggots." 2017. #Charlottesville pic.twitter.com/pMwbSXZ3wW

— Christopher Mathias (@letsgomathias) August 12, 2017
David Duke said that the hate rally "fulfills the promises of Donald Trump:"
https://twitter.com/jowrotethis/status/896392449760698368
UPDATE: Trump tweeted.
https://twitter.com/realdonaldtrump/status/896420822780444672
https://twitter.com/realdonaldtrump/status/896431205549318144
UPDATE 2: A man has died after a car rammed into a street crowded with counter protesters.
Disturbing video shows car slamming into counter protesters of white nationalists in Charlottesville, VA as violent clashes continue. pic.twitter.com/2qwc8SdP71

— ABC News (@ABC) August 12, 2017