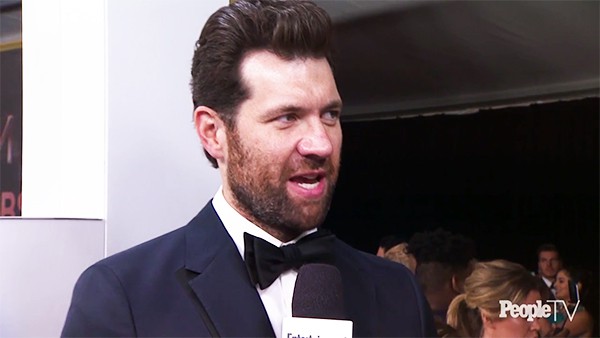 Billy Eichner is a busy man these days, and credits his increasing visibility and number of roles to finding a home in the mainstream for his particular blend of comic acting, a feat to which he ascribes special significance given that he is gay. He opened up on the subject with last week's The New York Times Sunday Magazine, as well as in a probing feature in Vanity Fair this past Friday and a red-carpet chat with People before last night's Emmys.
Eichner initially rose to prominence with his namesake Billy on the Street, a frenetic on-the-street interview show that wrapped up its fifth season earlier this year, and is a co-lead along with Julie Klausner as irreverent pop culture buffs on the Hulu comedy series Difficult People, now airing its third season. He also plays ensemble parts in Netflix's new show Friends from College and Ryan Murphy's current season of American Horror Story on FX.
Eichner chalks it all up to mainstream acceptance, in speaking with the NYT Sunday mag:
I never let people tell me that I should be grateful for a crumb of success. There aren't many openly gay guys in America who have had the success that I've had in comedy. I take ownership over the fact that ''Billy on the Street'' and ''American Horror Story'' are mainstream successes, and they should be seen as such, because there is power in the mainstream. What changes things is to be in the mainstream, to be Ellen DeGeneres, to be Will and Grace.
When asked on the red carpet on whether this current streak of success unnerves him, Eichner explains, "It doesn't freak me out. I'm surprised, I'm grateful, I'm working really hard — I'm just happy to be here." On his burst of productivity, he admits, "A lot of fun things are happening." In a perhaps unwitting tie-in to the character he plays on AHS, a Nicole Kidman-obsessed Harrison Wilton, Eichner cites Nicole Kidman as a main draw of excitement for him among his fellow Emmys award show guests. (Kidman won as a producer in the Outstanding Limited Series category for Big Little Lies, while Eichner's Billy on the Street was nominated for Outstanding Variety Sketch Series.)
It so happens that the Emmys themselves led to Eichner's current turn on AHS, according to Vanity Fair:
As it turns out, Eichner has the Emmys to thank for his turn on Ryan Murphy's FX series. . . . He saw Murphy from afar at an Emmys party three years ago, and played it a bit cool at first. ("I thought, 'Oh, wow. That's Ryan Murphy, but I'm not gonna say anything 'cause I don't want to be annoying.'") Then—Hollywood for ya!—Murphy approached him to say that he was a fan. They ended up having a meeting in Murphy's office, which Murphy concluded by telling Eichner he thought he'd be "an interesting fit on Horror Story." And at the next Emmys, a year later, Murphy told Eichner he had a part for him. (Eichner calls his work on American Horror Story"one of the best times" he's ever had, comparing the camaraderie of the cast to the "close-knit" feel of college theater.)
Now Eichner even confesses tongue-in-cheek to a bit of showbiz fatigue:
Eichner is now suffering from what he refers to light-heartedly as a "champagne problem," fielding offers (for talk shows, acting roles, and otherwise) while trying to determine if he wants to continue his currently running projects. "There's only so much time in the day. You want to have a personal life, too, and on one level you think to yourself, 'Wow, I worked really hard to get to this place. Now I have to take advantage [of the opportunities].' And on the other level, you're like, 'Well, I've worked really hard to get to this place. Can I enjoy myself for six minutes, please?'"
Eichner did find time earlier this year to put in an aw-shucks appearance, more cuddly than his usual acerbic persona, with the muppets of Sesame Street.