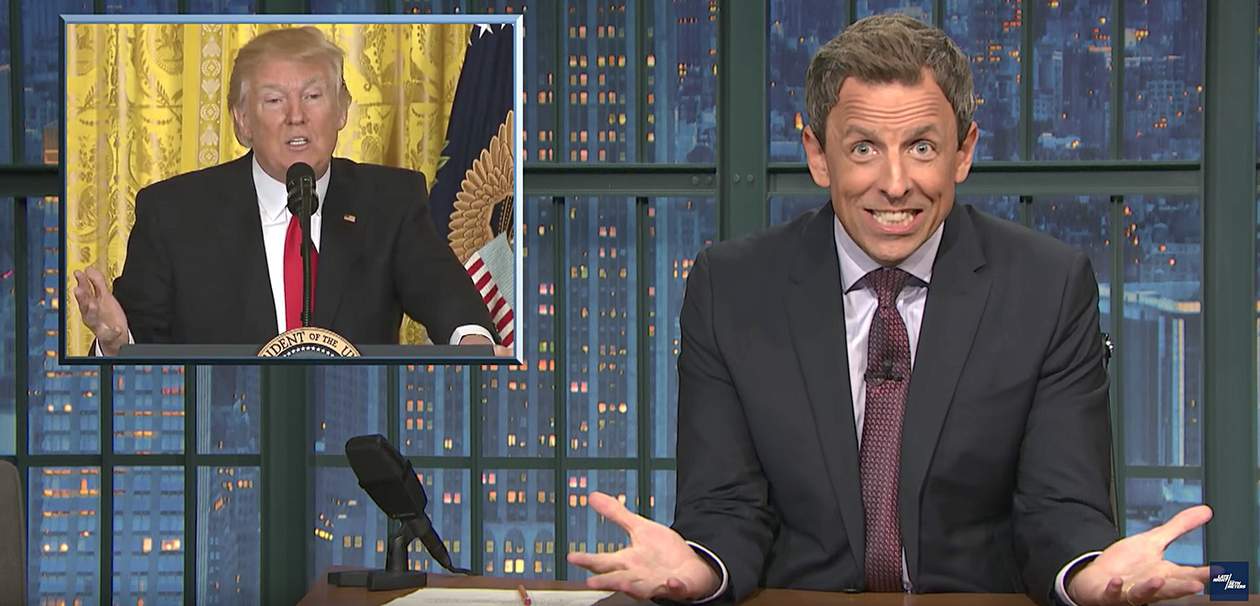 Back from break, Seth Meyers had a lot to say about Trump's cruel and inhumane decision on DACA: "As his summer of near constant chaos ends, President Trump faces a series of challenges more difficult than any he has dealt with up to this point. So how has he responded? By threatening to deport hundreds of thousands of law-abiding Americans."
But first he took a look at the president's tragicomic Hurricane Harvey response, where he praised the crowd turnout and carried plastic containers to show how much he was doing to help.
Meyers then likened Trump to news commentator Herbert Morrison who narrated the Hindenburg disaster, with these words: "Oh, the humanity! The humanity — is having the time of their lives! Have a good time, everybody!"
Meyers also mocked Trump's National Day of Prayer surrounding Hurricane Harvey, in which faith leaders stood around Trump in the Oval Office and praised him.
Meyers then segued to DACA, noting the heroic work done during Hurricane Harvey by Jesus Contreras, a paramedic who would be deported under Trump's plan to get rid of the Obama-era "Dreamers" immigration program.
Said Meyers, calling out the fact that Trump "hid behind Jeff Sessions," who was ordered to make the announcement: "Trump's decision throws the lives of nearly 800,000 Americans who were brought here as children, and who work here and go to school here, into chaos."
"So you have a president needlessly tormenting hundreds of thousands of hardworking Americans with a cruel and capricious policy that is supported neither by a majority of voters nor the leaders of his own party," added Meyers. "So why do Republicans continue to stand by him?"
Watch:
https://www.youtube.com/watch?v=qWFydl-nFsw