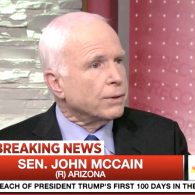 WRONG APPROACH. John McCain blasts Trump on DACA decision: "the wrong approach to immigration policy."
TO LISBON. Madonna has moved to Portugal.
KEITH SCHILLER. Trump "crushed" by departure of former bodyguard: "Multiple people interviewed described Schiller as an emotional anchor for the president in a White House often marked by turmoil. Schiller has worked for Trump for nearly two decades, and within the West Wing he serves as the president's protector, gate-keeper and wing man, according to people close to Schiller and Trump. Most of the people requested anonymity to candidly discuss relationships between the president and his aides."
HURRICANE HARVEY. Relief telethon will include Beyonce, Julia Roberts, Barbra Streisand, George Clooney, Reese Witherspoon and more.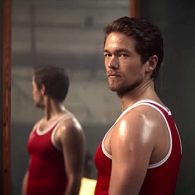 TOM OF FINLAND. Finland selects film about gay erotic artist as its Oscar candidate.
JAMES WHARTON. Openly gay UK soldier discusses his addiction to sex and drugs.
RUSSIA PROBE. Mueller and congressional panels butting heads: "There are three committees on Capitol Hill competing for information and witnesses — and there is little, if any, communication among them, even as congressional officials say they all are preparing to intensify the pace of their inquiries this fall. While the Hill investigations into Russia's meddling have been underway since the beginning of the year, the next few months could be the most consequential in terms of hearing from witnesses and gathering documents, sources say."
CROOKED HILLARY. Clinton blames Bernie Sanders for moniker.
MATT BOMER. He's the new face of Todd Snyder.
EJ JOHNSON. Not just some other rich girl: "Since he was outed as gay by TMZ in 2013, Mr. Johnson has seized his own place in the gender revolution (or at least its pop-culture incarnation), mostly as a fabulous dresser. His style is ostentatiously androgynous: fur shawls, ankle boots, diamond chokers, sheer tops, draped on a frame nearly as towering as that of his father, a former Los Angeles Lakers star."
https://www.instagram.com/p/BYl938vlMSl/?hl=en&taken-by=ejjohnson_
F**KING FABULOUS. The name of Tom Ford's new fragrance.
SEAN SPICER. Former Trump press secretary lands speaking gig: "Audiences around the world will benefit from the same candor, wit and insight that Spicer brought to the White House briefing room," Worldwide Speakers Group writes about Spicer in its pitch to potential customers, an early copy of which was reviewed by POLITICO.
TIM COOK. Apple CEO stands by company's 'Dreamers'. "250 of my Apple coworkers are #Dreamers. I stand with them. They deserve our respect as equals and a solution rooted in American values."
250 of my Apple coworkers are #Dreamers. I stand with them. They deserve our respect as equals and a solution rooted in American values.

— Tim Cook (@tim_cook) September 3, 2017
DALLAS. Denton gay bar Mable Peabody's closes suddenly: "Rumors of Mable Peabody's demise circulated quickly on social media over the weekend, and a producer for the bar confirmed its closure on Monday, reports The Dentonite. The longstanding bar, open since 1979, has been a fixture in both the city and the LGBT community in North Texas. In 2007, the bar was robbed, vandalized, and ultimately burned down by a suspected arsonist, and officially reopened the next year."
TOO GOOD AT GOODBYES. Sam Smith announces his new single.
'Too Good At Goodbyes'. 8th September 2017. So excited for you to hear the new single… 🖤 you all xx pic.twitter.com/JOja98qnjk

— samsmith (@samsmith) September 4, 2017
COLTON HAYNES. Carb loading.
https://www.instagram.com/p/BYlcrxnDSUh/
TOO HOT TUESDAY. Antoine Ward.
https://www.instagram.com/p/BYgaLpojTDD/?taken-by=antoinewardjr
https://www.instagram.com/p/BYa9XwEjHce/?taken-by=antoinewardjr
https://www.instagram.com/p/BVFpYtUDWcS/?taken-by=antoinewardjr
https://www.instagram.com/p/BUPtMBODyGA/?taken-by=antoinewardjr