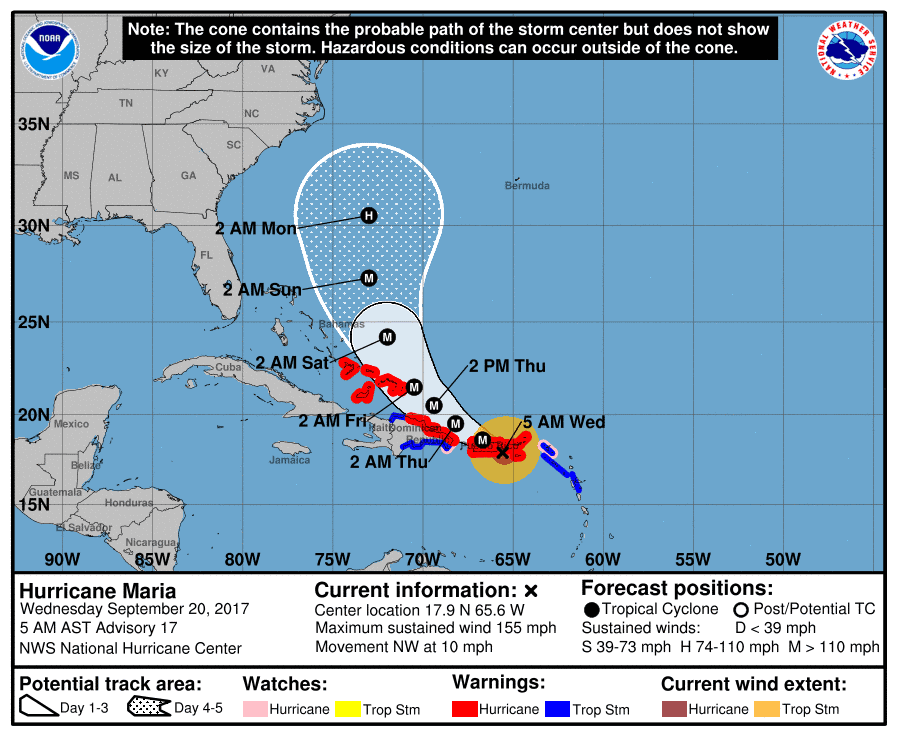 Hurricane Maria has made landfall in Puerto Rico ner the town of Yabucoa as a massive Category 4 hurricane with 155 mph winds.
The strongest storm to ever hit Puerto Rico was San Felipe in 1928 with 160 winds mph. The island was spared the widespread damage caused by Hurricane Irma when it tore through the Caribbean, killing 38 there and 36 in the U.S., this month.
Maria killed one person in the French Caribbean island of Guadeloupe when a tree fell on them Tuesday night, and two people aboard a boat were reported missing off La Desirade island, just east of Guadeloupe. The storm also blew over the tiny eastern Caribbean island of Dominica late Monday. Prime Minister Roosevelt Skerrit sent out a series of posts on his Facebook page, including that his own roof had blown away.
Live video from San Juan:
Forecasters said the storm surge from Maria could raise water levels by 6 to 9 feet (1.8 to 2.7 meters) near the storm's center. The storm was predicted to bring 10 to 15 inches (25 to 38 centimeters) of rain across the islands, with more in isolated areas.
The models for Maria's forecast path predicted it would head up and parallel the east coast. Forecasters said that much of Maria's later path would depend on the strength and track of Hurricane Jose, which has been hovering off the southeast coast of New England and was predicted to stay there for the next couple of days.
Jose is expected to weaken, but it's unknown how much. The more Jose stays intact, the better chance there is of Maria being swept off to sea. If it weakens, Maria could be pulled closer to the East Coast.
Much can change in Maria's track at this point.