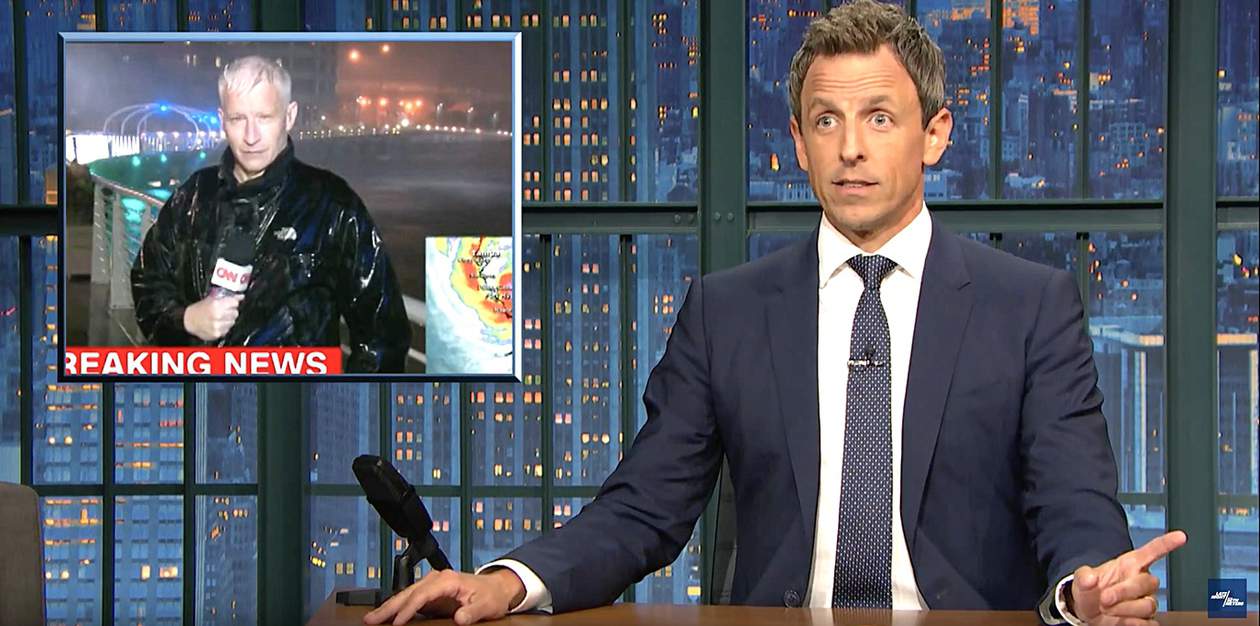 Seth Meyers launches last night's "A Closer Look" with the response to Hurricane Irma, taking a look at the reporters who covered the storm by standing out in the middle of it and telling people that they shouldn't be out in it.
"You shouldn't be out in it," said Meyers. "I mean, who wants to see Anderson Cooper soaking wet? Oh, a lot of people. Men and women. And now I'm realizing I do too."
Meyers also looked at the bravery of the first responders, and Trump's failed attempt to properly recognize them. Trump said "If you talk about branding, no brand has improved more than the United States Coast Guard."
"Branding?", Meyers gasped. "What are you talking about? They're not Arbys!"
Meyers then moved on to Trump's latest deal with Democrats, and mocked the news outlets who are suddenly heralding him as an independent.
Said Meyers:
"Can we just stop with this absurd talking point? Donald Trump is not an independent. The only thing he's independent of is reality. Whether it's his views on climate change, immigration, race, taxes, education, or national security, he has proven time and again, that he is a Republican. The GOP is now totally and completely the party of Donald Trump."
Finally, Meyers looked at Steve Bannon's 60 Minutes interview, and Bannon's claim that Trump is smarter than Hillary Clinton.
Quipped Meyers:
"Of course Hillary Clinton is smarter than Donald Trump. She's a graduate of Yale Law, a former senator and secretary of state. Meanwhile, I'm pretty sure Trump thinks Frederick Douglass was in Boys II Men."
Watch:
https://www.youtube.com/watch?v=nPmNV7F4PxY