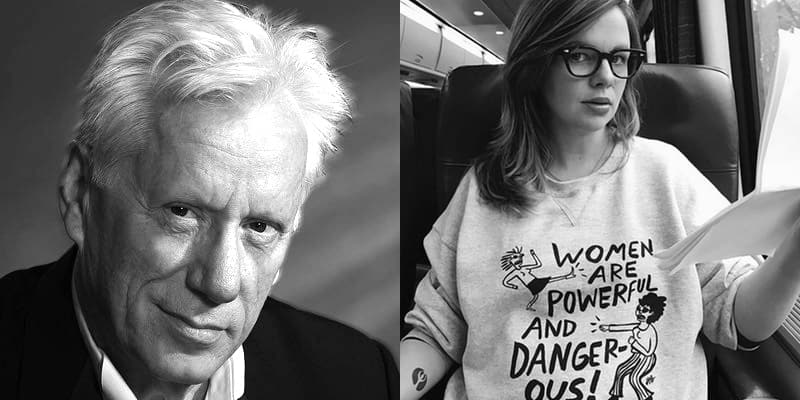 Actress Amber Tamblyn doubled down on Armie Hammer's epic takedown of James Woods on Tuesday, after Woods criticized the age gap relationship in Hammer's new gay-themed film Call Me By Your Name.
Woods, who retweeted a Towleroad post about the film, which features Hammer as a 24-year old American scholar who attracts the attention of a 17-year-old Jewish-American boy played by Timothee Chalamet, accused the film of "quietly chip[ping] away the last barriers of decency."
Woods also hashtagged NAMBLA (the North American Man Boy Love Association).
Hammer tweeted back at Woods: "Didn't you date a 19-year-old when you were 60……?"
Later on Tuesday, Amber Tamblyn doubled down on Hammer's swat, tweeting:
James Woods tried to pick me and my friend up at a restaurant once. He wanted to take us to Vegas. "I'm 16" I said. "Even better" he said.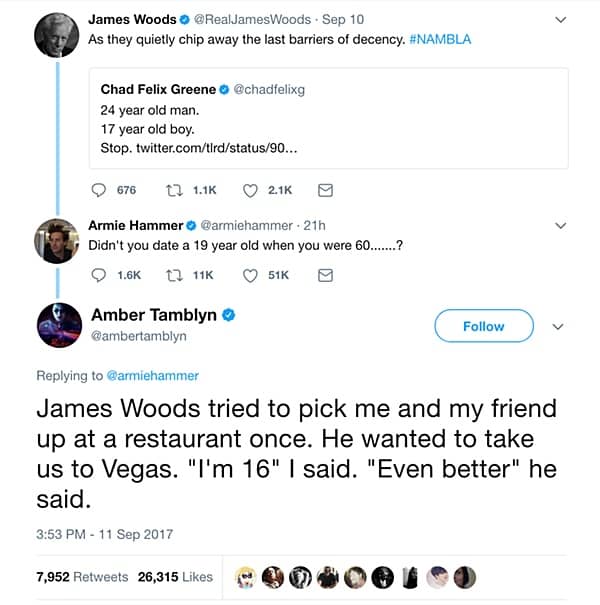 Woods, a prolific Twitter user, did not immediately respond to either Hammer or Tamblyn's accusations but he did go on a bit of a Twitter bender, responding to more than a handful of his 851,000 followers. "If somebody has something of value to say, I always love to engage in a dialogue," he wrote, before answering questions about politics, Family Guy and accusing New York Times columnist Charles M. Blow of blocking him. He then faced the day's controversies.
At first, he made light of Tamblyn's comments, responding to Twitter user Jenn Ward who wrote, "I met you once when you were in Shreveport, La. You stopped by my window in a hospital and asked for directions. Made.My.Day." Woods responded with, "I'm so glad. Did I offer to take you to Vegas?"
A few tweets later, he accused Tamblyn of lying. User Amanda Kendall linked the movie's subject and Tamblyn's accusation by asking Woods a question about the morality and legalities of underage relationships: "What makes a 24yo/17yo gay relationship inherently indecent but skeevy old guys trying to pick up a pair of 16 year old girls is okay?"
Woods response? "The first is illegal. The second is a lie."
Woods later tweeted:
https://twitter.com/RealJamesWoods/status/907429112188370945
https://twitter.com/RealJamesWoods/status/907432853822169088