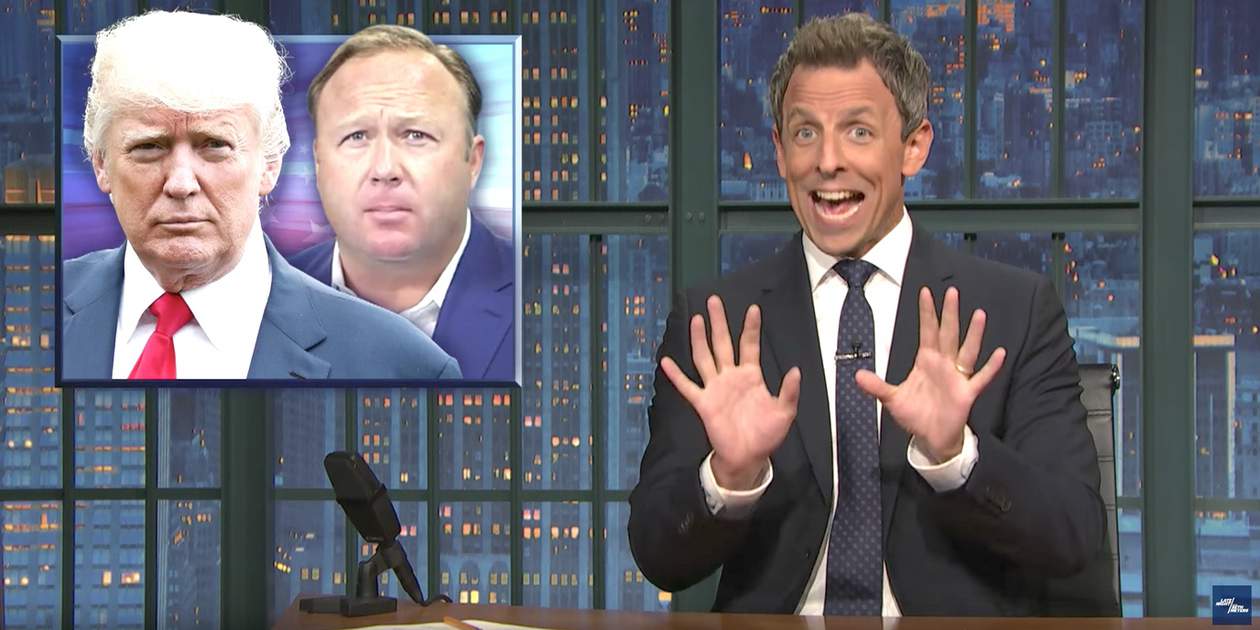 Seth Meyers last night took 'A Closer Look' at how Trump is trying to wrangle his domestic agenda as special counsel Robert Mueller continues to close in on his administration in the Russia probe.
Said Meyers of Mueller:
"He looks like the police chief from every 1950s noir film. He looks like he should be holding a bullhorn and shouting, 'You're surrounded, McMurphy.' This guy always looks like you just asked if you could take his daughter to a Slayer concert. He doesn't even get haircuts, he just looks at his hair in the mirror and growls, 'Get shorter.'"
Meyers also looked at the continuing debate over whether Kushner should be involved in the administration or not, despite the fact that Trump has assigned him to lead almost every important task:
"Jared Kushner resign? But then who would be in charge of U.S.-China relations, U.S.-Mexico relations, criminal justice reform, opioid crisis management, veteran care reform, the White House Office of American Innovation, revamping the entire federal government, painting the Easter eggs for the Easter egg hunt, and peace in the Middle East? Jared Kushner has more jobs than Steve Harvey. He's the white Steve Harvey."
Meyers then moved on to Trump's attempts at tax reform, and Alex Jones's claims that Trump is being slowly sedated with drugs that are being put in his Diet Cokes.
"That's how bad things are now. The president's allies are defending him by saying, 'he's not incompetent. he's being secretly drugged.'"
Watch:
https://www.youtube.com/watch?v=WgydZwHE3yA