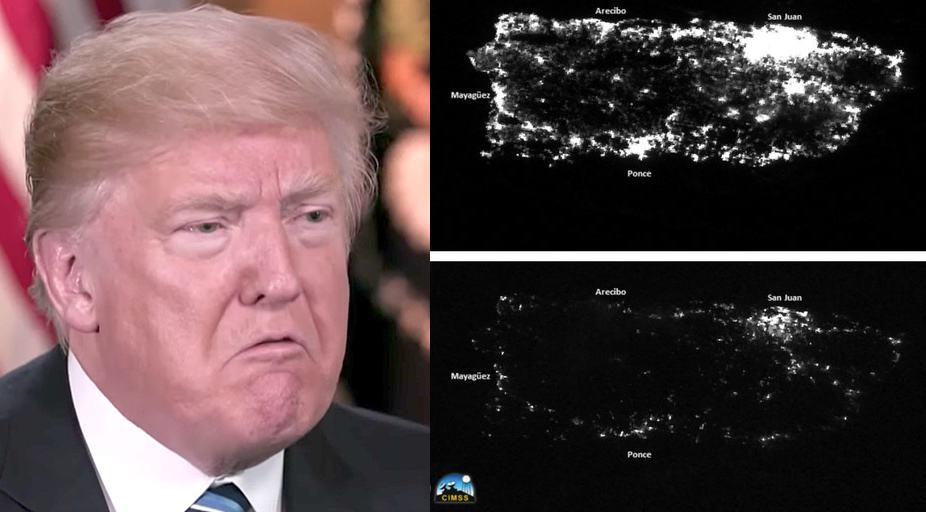 Puerto Rico is quickly becoming a humanitarian disaster but the only thing Donald Trump seems to care about is stirring up culture wars, intensifying his attacks on the NFL Tuesday morning.
https://twitter.com/realDonaldTrump/status/912624892239077376
https://twitter.com/realDonaldTrump/status/912626731357540353
https://twitter.com/realDonaldTrump/status/912629775629418501
Trump mentioned Puerto Rico for the first time on Twitter Monday night, criticizing the island territory's financial problems.
Tweeted Trump:
"Texas & Florida are doing great but Puerto Rico, which was already suffering from broken infrastructure & massive debt, is in deep trouble…..owed to Wall Street and the banks which, sadly, must be dealt with. Food, water and medical are top priorities – and doing well. #FEMA"
https://twitter.com/realDonaldTrump/status/912478274508423168
https://twitter.com/realDonaldTrump/status/912481556127780865
A NASA before-and-after photo shows the devastation to Puerto Rico's electrical grid:
Satellite night images of #PuertoRico. #HurricaneMaria knocked out power grid, millions without electricity. More @ https://t.co/UxxCHH5OVC pic.twitter.com/yUDLk8V0Jf

— NOAA Satellites (@NOAASatellites) September 25, 2017
Puerto Rico's governor Ricardo A. Rosselló warned of a mass exodus from the territory to the mainland if help does not arrive.
Stressing that Puerto Rico, a United States territory, deserved the same treatment as hurricane-ravaged states, the governor urged Republican leaders and the federal government to move swiftly to send more money, supplies and relief workers. It was a plea echoed by Puerto Rico's allies in Congress, who are pushing for quick movement on a new relief bill and a loosening of financial debt obligations for the island, which is still reeling from a corrosive economic crisis.
"Puerto Rico, which is part of the United States, can turn into a humanitarian crisis," Governor Rosselló said. "To avoid that, recognize that we Puerto Ricans are American citizens; when we speak of a catastrophe, everyone must be treated equally."
Celebrities have been using their voices on social media to try to get Trump and the public's attention. Jennifer Lopez, Marc Anthony and playwright Lin-Manuel Miranda have been calling on the public and Trump to help.
Mr. President shut the fuck up about NFL. Do something about our people in need in #PuertoRico. We are American citizens too.

— Marc Anthony (@MarcAnthony) September 25, 2017
Hey @realDonaldTrump you can't wait that long. There will be a lot of American deaths on your watch if you wait that long. https://t.co/lwvtbcdtHU

— Lin-Manuel Miranda (@Lin_Manuel) September 25, 2017
https://www.instagram.com/p/BZVGvNvFpJw/?hl=en&taken-by=jlo
A lot is going on in the world. But we cannot, must not, forget our fellow Americans in Puerto Rico NEED aid. #PuertoRicoRelief @Lin_Manuel pic.twitter.com/Sq8ikBJ1pg

— Patrick Ryan Blood, Esq. (@thepatrickryan) September 26, 2017