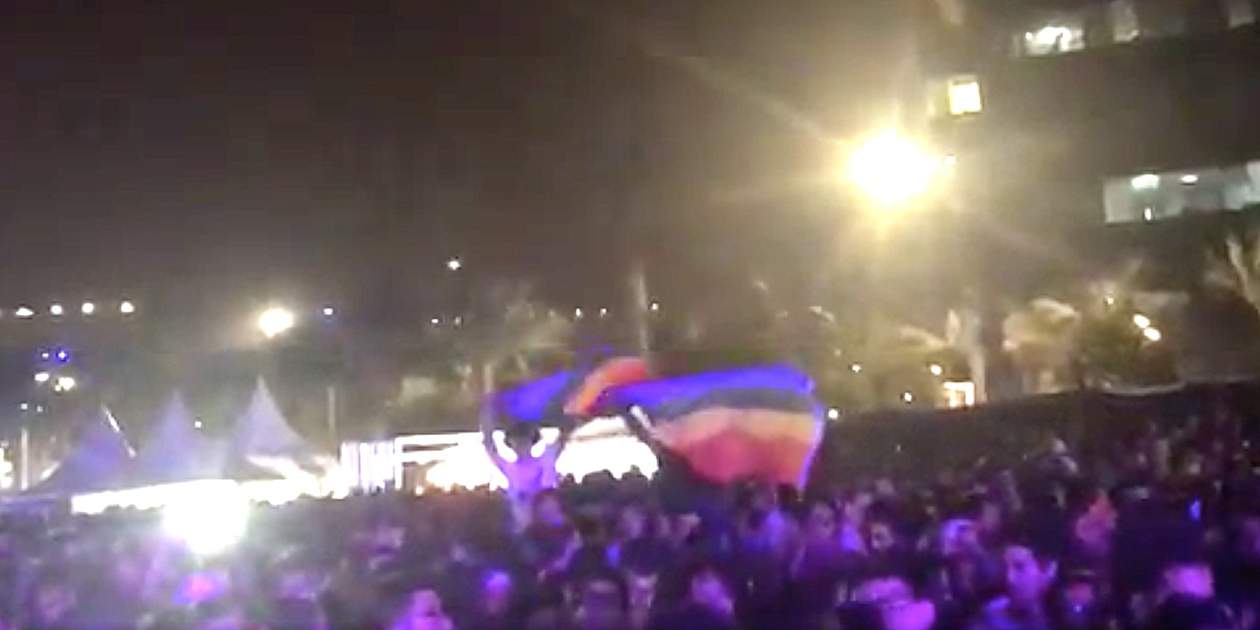 Seven people have been arrested in Egypt after raising a rainbow flag in support of LGBTQ rights at a concert put on by the Lebanese band Mashrou' Leila. The band's singer is openly gay.
Egyptian Public Prosecutor Nabil Sadek ordered the State Security Prosecution to immediately investigate the incident, state news agency MENA reported.
The public prosecutor has not yet announced a decision on whether formal charges will be filed and a case brought to court.
Although homosexuality is not specifically outlawed in Egypt, it is a conservative society and discrimination is rife. Gay men are frequently arrested and typically charged with debauchery, immorality or blasphemy.
https://twitter.com/amrhitch/status/911369551534837760
The Egypt Independent reports:
Sara Ayman, 23, moreover believes that the issue lies way beyond "the raise of the flag."
"This is a flag that declares clearly the agreement and acceptance of something that caused a whole nation back in time to be doomed. I can't see people repeating history and not speak up against it," she said.
Donia El Maghraby, 22, however, attended the concert and felt happy that people have a safe venue to express themselves and feel proud of who they are.
"People are neither obligated nor expected to abide by what (other people) think is moral and right. Egypt has a long way to go before it starts conceding personal freedoms, but the least we can do is not make a fuss if a few people (in a very limited instance) decide to declare they're simply different," she said.
Salma El Saeed shared Donia's views, adding that people took to social media right away expressing their disturbance because it's one of the first places where the LGBT community has made its presence known.
"People are in denial that LGBT exists in Egypt. Everybody needs to realize that they were only able to do that at this concert specifically because they felt it would be a safe space," Salma added.
#Cairo! This was one of the best shows we've ever played! Was an honour to play to such a wonderful crowd! So much love! <3 #مشروع_ليلى pic.twitter.com/OX9YAXXfeD

— Mashrou' Leila (@mashrou3leila) September 23, 2017
A video of the band performing in San Francisco: