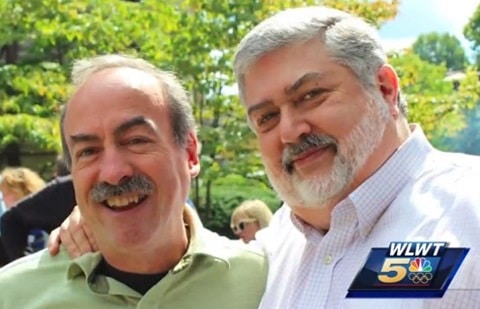 A gay Cincinnati pastor is fighting to keep his job since he married his partner last year.
According to Reverend David Meredith (above right with husband Jim), on Sunday the United Methodist Church's Committee on Investigation heard two complaints in order to figure out if more proceedings are required.
However, Meredith – who has been a pastor at the Clifton United Methodist Church for six years – said the congregation is standing behind him.
WLWT reports:
The church said the Committee on Investigation includes four clergy members in full connection, three professing members, three alternate clergy members in full connection and six alternate lay members.
Meredith said some would like to see him kicked out of the church, but his congregation stands behind him.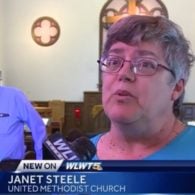 "In love, we are saying, 'Why? Why are we doing this to this man of God?'" [church member Janet Steele, right] said.
It's a moment Meredith said won't change his love for the Lord.
"The problem that others have is that I will not be quiet, that I will not hide the witness of Christ in this gay man's life and in my loving relationship with my husband," he said.
There was no decision after the hearing. A response is expected by Friday and could eventually lead to a church trial.
In a statement, Gregory V. Palmer, a Resident Bishop with the United Methodist Church, said
That he is aware of the case and hopeful of a "just resolution."
Watch a clip of David and Jim's wedding ceremony below.