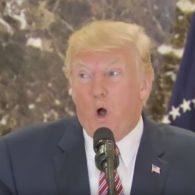 COLUMBUS DAY. Trump statement makes no mention of Native Americans. 'Trump's statement referenced Columbus's Italian heritage and praised the manifold contributions of Italian Americans, including Columbus's own contribution of the "critical first link in the strong and enduring bond between the United States and Europe." (It became a federal holiday in 1937 after much lobbying by the Knights of Columbus, a Catholic fraternal organization, and other prominent Italian Americans.) But there was a conspicuous lack of reference to the impact of Columbus and other European explorers and colonists on indigenous populations—a key reason why the holiday has become controversial.'
POLLS. Trump loses favorability among rural voters: 'According to the Reuters/Ipsos daily tracking poll, the Republican president's popularity is eroding in small towns and rural communities where 15 percent of the country's population lives. The poll of more than 15,000 adults in "non-metro" areas shows that they are now as likely to disapprove of Trump as they are to approve of him.'
PET VID OF THE DAY. Dog thinks the Moon is a ball.
DIANNE FEINSTEIN. Running for reelection.
I am running for reelection to the Senate. Lots more to do: ending gun violence, combating climate change, access to healthcare. I'm all in!

— Dianne Feinstein (@DianneFeinstein) October 9, 2017
FILLING SEATS. Trump is filling court seats with anti_LGBTQ, anti-abortion judges: "Ten months in, Trump has nominated 17 circuit court judges and 39 district court judges. That's far more than former President Barack Obama's 10 circuit court nominees and eight district court nominees by this point in his first year of office. Former President George W. Bush had nominated 14 circuit judges and 32 district judges by this point."
DACA. Trump will protect some kids if he can hurt others.
FOCUS ON THE FAMILY. Exec's daughter is a lesbian.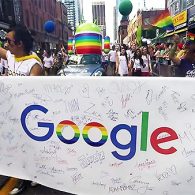 MEDDLING. Russians used Google, as they used Facebook: "Google discovered that Russian agents spent tens of thousands of dollars on advertisements with the goal of spreading disinformation across a spectrum of Google's products, including YouTube, as well as ads associated with Google search, Gmail, and its DoubleClick ad network, according to anonymous sources cited in a Post article that revealed details of the investigation, which has not yet been made public."
MISSISSIPPI. San Francisco Gay Men's Chorus and Oakland Interfaith Gospel Choir join forces in Jackson for message of unity.
LIVERPOOL. Protest to take place outside "gay cure" church.
LONDON. G-A-Y nightclub asks for later closing time after rent hike.
FIFA. Football organization cited 51 instances of anti-gay chants and fined 16 countries: "Of particular note is the Mexico soccer team, which was cited 11 times for violations. Eleven times. Clearly fines and public-relations campaigns are not working as the anti-gay chants have even crept into other sports and leagues like the NFL."
THE HEAD IN THE FRIDGE. Jon Snow played an evil April Fools prank.
HELLO DOLLY. Front row seats to the Broadway show starring Bette Midler are going for $998. 'The price is a record for a non-holiday performance on Broadway. "Hamilton" is the only show that has reached that level before, charging $998 for some seats during the Thanksgiving and Christmas weeks last year.'
MATT BOMER. On straight male fans of Magic Mike:
NEIL DEGRASSE TYSON. Blowing his own mind with facts about the universe.
TIER LIST OF THE DAY. Ranking sharks from bottom to top predator.
MONDAY MUSCLE. Christian Bordin.
https://www.instagram.com/p/BThY83KjAEa/?taken-by=christian_bordin