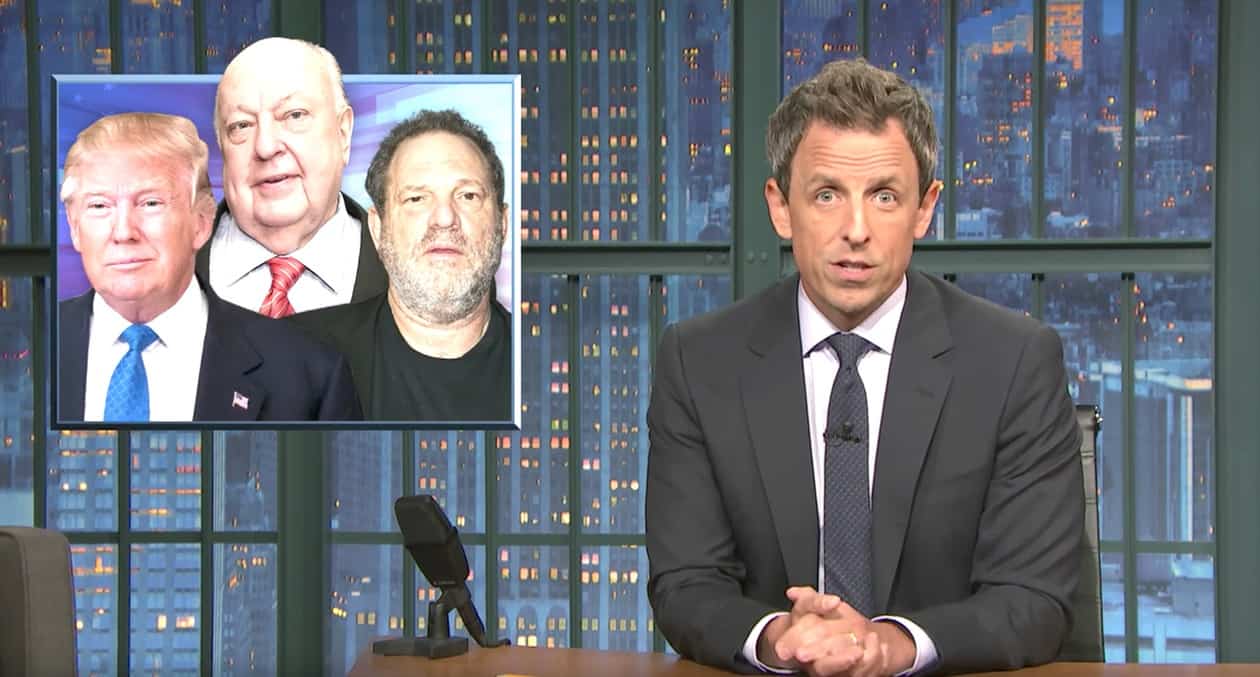 Seth Meyers turned his focus to the "entitled minds of powerful predatory men" last night, tearing to shreds Hollywood mogul Harvey Weinstein and suggestions he could make a comeback, but he first shined his light on America's top sexual predator, its president, and his abusive and misogynistic attacks on more than a dozen women, including Hillary Clinton and San Juan Mayor Carmen Yulin Cruz.
During the campaign, Trump said that "every woman lied when they came forward to hurt my campaign" and promised that every woman would be sued when the campaign is over.
Quipped Meyers: "And as we know Donald Trump always keeps his promises so those women were sued and found guilty at a trial held right next to the finished Mexican border wall on the same day that Obamacare was repealed."
"Donald Trump is perhaps the most famous example of this kind of abuse of male power, but he is by no means the only one," added Meyers, turning his focus to Harvey Weinstein, accused by 25 women of sexual harassment and, in three cases, rape.
Weinstein believes he can make a comeback, a claim that astonished Meyers:
"Next year?!? You think you can come back in a year? If Weinstein had himself cryogenically frozen and woke up a thousand years later, the headline would still be 'Too Soon, Creep!'"
Trump's lawyer Lisa Bloom described him as "an old dinosaur learning new ways."
Said Meyers:
"Dinosaurs don't learn new ways! They go extinct! They didn't survive because they didn't learn how to type! If you're a dinosaur, then this is your ice age, buddy! And unlike dinosaurs, no one is going to try and bring back Harvey Weinstein."
Meyers concluded:
"In the last year-and-a-half, the most powerful man in news (Roger Ailes), the most powerful man in politics (Donald Trump), and the most powerful man in Hollywood (Harvey Weinstein) were accused of serial sexual predation. This should not be a partisan issue. It requires all of us to speak out and ask ourselves what we can do to address it."
Watch:
https://youtu.be/oKzFGhlFqqE