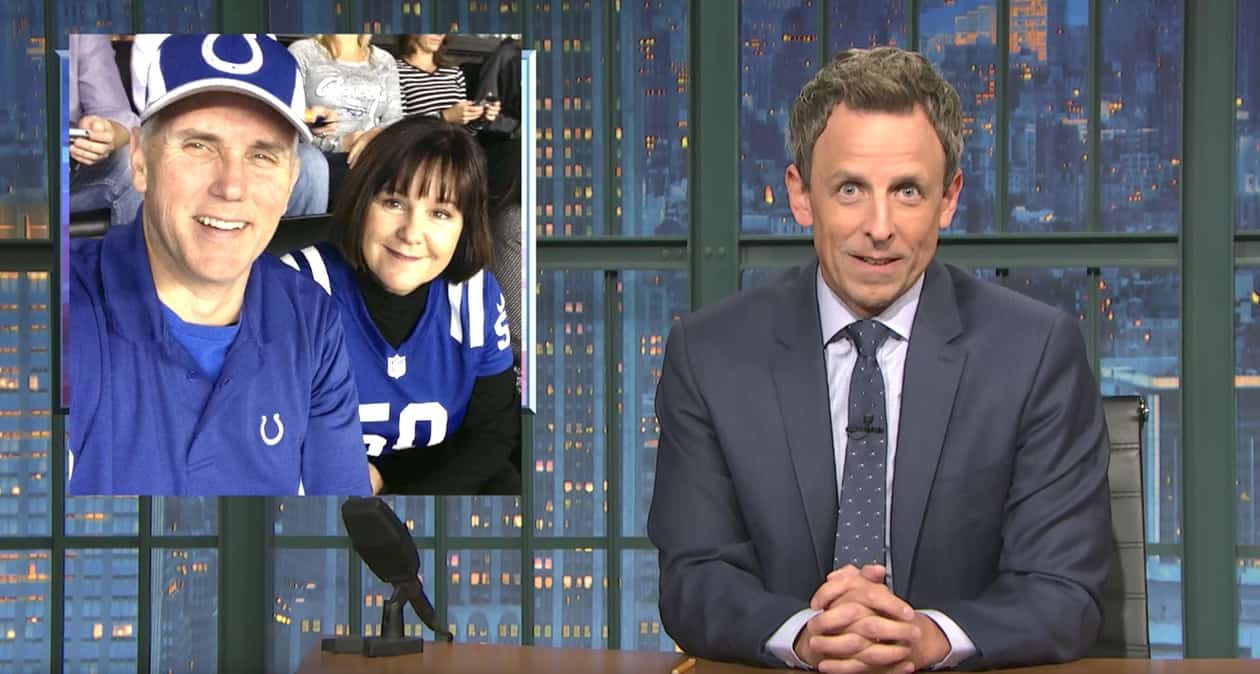 Trump's affected pronunciation of "Puerto Rico" opened Seth Meyers' 'A Closer Look' segment on Monday night along with the president's breathless explanation in an interview this week of Puerto Ricans asking him to throw paper towels to them.
"What is wrong with you?", Meyers gasped. "You're like a lifeguard who thinks he's popular because people keep yelling for a life preserver."
Meyers also mocked Trump's description of the paper towels as "soft, beautiful towels."
"Trump has clearly never even used or even touched a paper towel before," noted Meyers.
In this week's interview, Trump also claimed that he invented the term "fake," saying "I guess other people have used it, perhaps, over the years, but I've never noticed it."
Quipped Meyers to shrieks of approval from his audience: "I'm sorry, what? You've never noticed anyone use the word 'fake' before? You never heard anyone describe your hair, tan, university, foundation, net worth, marriages, or businesses?"
But despite Trump's whining about Puerto Rico, he didn't spend the weekend concentrating on it. He and Pence were focused on the NFL and the National Anthem protests, staging a badly planned stunt to draw attention to it.
And then Meyers got to his important point.
"Yesterday was also a reminder that we can't get lost in the circus of Donald Trump and fail to properly evaluate Mike Pence. And this is serious, so I'm going to say it the way Mike Pence would."
Added Meyers (imitating Pence):
"Don't forget for one moment that he speaks softly with furrowed brow from a small, serious mouth, Mike Pence is a liar on equal footing with the president. They deliver their lies differently: The president, fast and wild, as though his mouth was a firehose, whereas Mike Pence lets them seep out slowly, like a fart from a constipated man … And now I'd like to read from Psalm 23, when Jesus said, 'Keep the van running. I'm only going in for a publicity stunt.'"
Finally, Meyers looked at Bob Corker's attacks on the president, reminding everyone that until recently, Corker was a Trump enabler.
"He and the Republican Party not only allowed Trump's rise, but encouraged it."
Watch:
https://www.youtube.com/watch?v=AGdrFAz7MoY