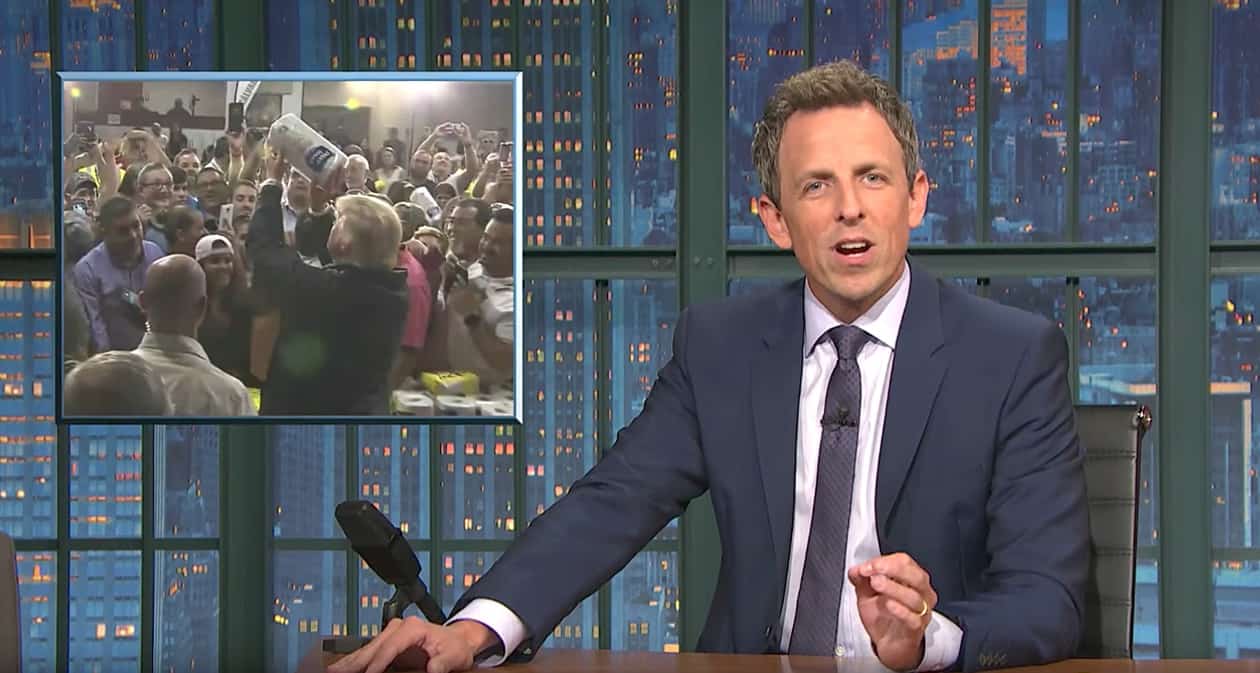 Donald Trump's offensively unsympathetic trip to hurricane victims in Puerto Rico would be comedic if it weren't so tragic.
Seth Meyers followed Trump on his desperate bid for a good grade in the US territory, which ended as a big fail.
Said Meyers: "[Trump is] desperate for an A+. I wouldn't be surprised if Trump has someone write out fake report cards just so he can stick them on the White House fridge."
Trump doesn't know empathy, which was clear in the way he addressed hurricane victims who had lost their entire home and possessions, saying, "have a good time."
"Have a good time? They're hurricane victims and you sound like you're hosting a barbecue."
Meyers later added, "He says things like 'have a good time' because his life would be so much easier if everyone would just have a good time. He's like a stressed out mom trying to keep a Thanksgiving dinner from going off the rails – 'can't everybody just have a good time?'"
Meyers also looked at the jaw-dropping moment Trump shot off paper towels to people who had come for food and supplies.
"They were hit with a Category Five hurricane and you're handing out paper towels? How absorbent do you think they are? He looks like a drunk grandfather playing pop-a-shot at Dave and Busters. 'Grandpa, we have to go!' 'I'm close to getting enough tickets for a giant pencil!'"
Trump also talked to first responders in Puerto Rico about the military's recent purchase of an "invisible plane." Just what they came to hear.
And speaking of not wanting to hear, the final segment of Meyers' 'A Closer Look' monologue ended up with Republicans and the gun control debate.
Watch:
https://www.youtube.com/watch?v=Cc8Rpk9HhUM