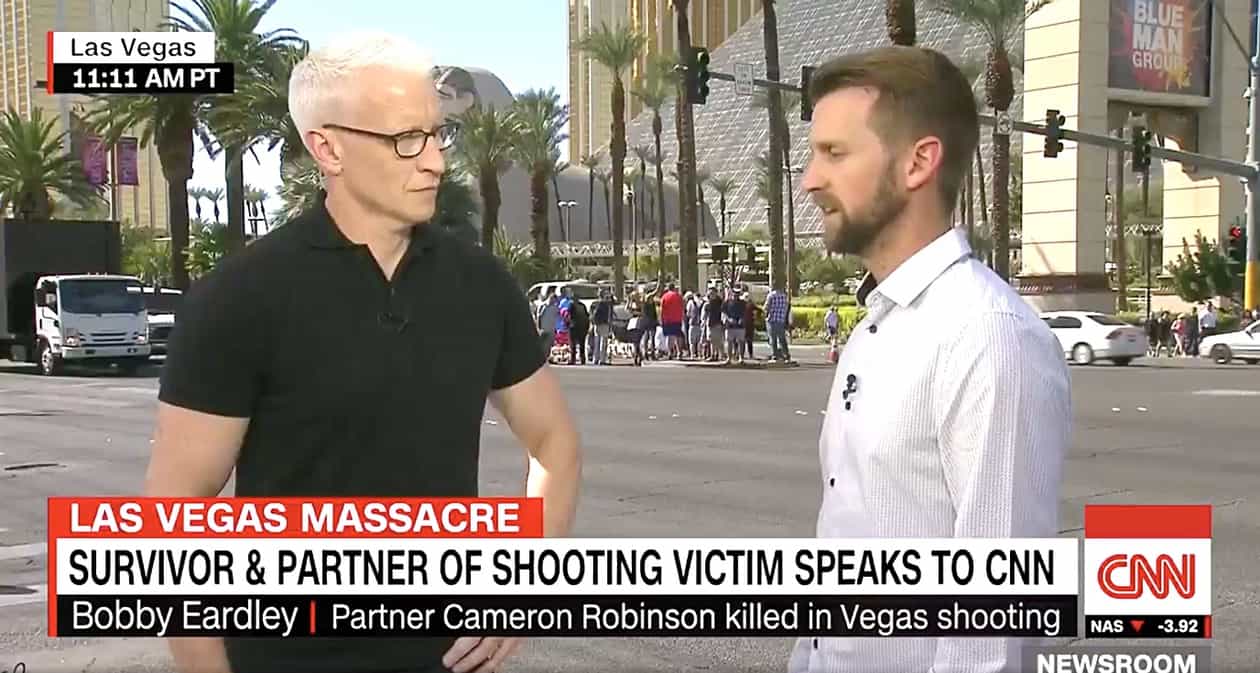 There are so many stories of heroism and humanity emerging from the horrific massacre in Las Vegas and so many who have lost family and friends, but this story should be of particular interest to our readership.
Anderson Cooper spoke yesterday to Bobby Eardley, a gay survivor of the Las Vegas massacre who lost his partner Cameron Robinson in the attack. Robinson was a City of Las Vegas employee. The two met online and hit it off.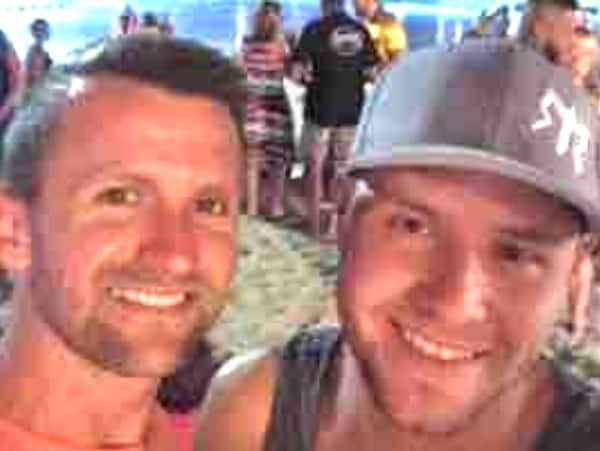 Said Eardley of Robinson:
"I just can not say enough amazing things about that man. He's such an example to everyone he came into contact with in his life."
Eardley spoke about how Robinson helped his own family accept his sexual orientation:
"When I came out four years ago I didn't know how it was all going to go with my family…it took someone as special as Cameron to be able to open eyes for everyone and just learn love and acceptance. I'm so grateful to him for that and for the example that he was for me and my family and my kids."
Eardley also described the terrifying moments after the attack:
"I just wanted to make sure that he knew that he wasn't alone in those moments and I held him and talked to him the whole time and I know he wasn't the only victim and I know that so many other people are going through exactly what I'm going through and my heart goes out to every single one of them and I just want to make sure that the heroes of the situation are also noticed."
Eardley described two strangers who performed CPR on his partner and another man on the way to the hospital and his desire to thank them for trying.
"It meant a lot to me in those moments," said Eardley.
Watch Anderson Cooper speak to Eardley:
Bobby Eardley's partner died in Las Vegas: "I just can not say enough amazing things about that man." https://t.co/Xw1gTMa5ef

— Meg Wagner (@megwagner) October 4, 2017
Eardley's friend Valerie Alvey set up a GoFundMe Campaign to pay for Robinson's funeral. You can find it here.
Please help his family and friends raise the much needed funds to cover the funeral and medical expenses. Today we lost an amazing friend, son, brother, uncle, cousin, coworker and boyfriend to the senseless, horrible tragedy of the Las Vegas shooting. He was full of life and love and so much passion. He loved his family, friends and everyone he came in contact with. He loved to cook, entertain, run marathons, travel, go camping, boating, and the outdoors in general and above all surround himself with those he loved and others. He is an amazing example to all and brought so much light to those he came in contact with. He accomplished so much in such a short time and touched the lives of so many. Between his love to cook and amazing dance moves there was always good times. He was such a caring, giving and loving man. Cameron, you will be greatly missed. We love you so much!
Eardley's mother spoke to the NY Daily News:
"He loved life," Joyce Eardley, 64, said through tears of her son's slain boyfriend, Cameron Robinson, 28, who she said was like a second father to her three young grandchildren.
"He loved people and to serve people — he was a character, he had us all laughing. We could be in the dumps and then he'd have us all in laughter," she said. "A great loss of a great man."